Content Research
Learn how to perform effective content research before investing time and effort into creating content for your business. 
One of the best ways to avoid creating content that may end up delivering poor results is to learn how to perform effective content research before investing time and effort into creating it.
Content research is part of the content planning process and should be done after the business has developed its content strategy and before going into content production.
In this lesson, we will cover:
Why Do Content Research?
Key Areas Of Effective Content Research
How To Do Content Research
Before You Begin
Please review and complete the Content Planning lesson before starting this lesson.
What Is Content Research?
Content research is the process of gathering and analyzing information about a specific topic or audience in order to inform the creation of your content.
Why Do Content Research?
The goal of doing content research is to analyze content online and use your analysis and conclusions to help develop a unique content strategy that will benefit the long-term growth and brand visibility of your business.
By performing content research, you can make informed decisions about what type of content to create, how to create it, and how to promote it. This helps you produce content that is more likely to be read, shared, and ultimately drive the desired outcomes of your business.
Content research can include things like looking at the top posts ranking in search engines for your industry, niche, or topic, content that is attracting lots of social shares and engagement, what your competitors are writing about, discussing, or sharing online, etc.
Some of the reasons why content research matters include:
Helping your business understand its target audience, what kind of information it consumes, shares, and engages with on social media, and what content works best for reaching it. You can use this to build a content library of information and resources for users.
It helps to shape your content marketing strategy.
It helps you understand how to build authority, credibility, and trust online with users.
It lets you identify third-party resources your target audience likes and tends to gravitate toward.
It shows you what content you need to build to carry prospects through their entire buying journey.
It gives you insights on how to build sustainable growth for your brand, increase organic search traffic and social media visibility, and improve your lead generation activities.
Content Research Goals And Objectives
The goals and objectives of performing content research include:
Understanding your audience: Identifying the characteristics, needs, and preferences of the target audience in order to create content that resonates with them. This can be achieved by surveying a group of potential customers to learn about their pain points and what type of content they prefer to consume.
Identifying gaps in existing content: Analyzing existing content in order to identify areas where new or additional content is needed. This can be achieved by performing a content audit and reviewing the content on your company's website to identify topics that are under-represented or missing.
Identifying competitors: Analyzing the content produced by your competitors in order to identify opportunities and strategies for creating unique and valuable content. This can be achieved by reviewing the blog posts, social media posts, and e-books of your direct competitor(s) to identify common themes and formats that they use.
Identifying trends and topics: Researching industry trends, news, and popular topics in order to inform the creation of timely and relevant content. This can be achieved by monitoring social media channels, search engines, and news articles to identify trending topics and keywords to include in your content.
Optimizing search engine visibility: Researching keywords and phrases that are relevant to the content and audience in order to optimize the content for search engines. This can be achieved by using keyword research tools to identify keywords and phrases that are frequently searched for by the target audience and incorporating them into the content.
Measuring the effectiveness of your content: Gathering data on how your content is performing in terms of engagement, shares, clicks, conversions, etc., in order to determine how well it is meeting your goals and objectives. This can be achieved by using analytics tools to track the number of views, shares, and engagement on a blog post or social media post.
Key Areas Of Effective Content Research
Effective content research focuses on three key areas:
Your Market
Your Audience
Your Competition
Let's take a brief look at each of these key areas:
Your Market
Focusing on gaining a better understanding of the market will help you answer questions about:
The environment the business operates and sells its products or services in (e.g. is it a growing or shrinking market? How do political or global events affect it?)
Technological disruptions, changes, and innovations in the industry or niche that the business should be aware of and prepare for or begin to embrace.
Emerging opportunities (new product development, new territories, new sectors, etc.)
Current limitations and barriers to growth or expansion.
Which distribution channels are available to or work best for the business.
Industry best practices.
Your Audience
Focusing on gaining a better understanding of the audience the business is targeting will help you answer questions like:
Who is the ideal target audience? What do they look like? What are their values and preferences? What do they like or dislike?
Where does your audience congregate online? How can you reach them? What are the most cost-effective ways to reach them?
What type of content does your audience consume? What is their preferred content format?
What are their pain points, concerns, and challenges? How can your business help them solve these?
Some of the ways to know your audience better and get to understand their desires, goals, fears, frustrations, and pain points include:
Keep an eye on your competitors.
Monitor audience feedback, engagements, and comments through surveys, online forms, and how they engage and comment on your blog, social media channels, community forums, and customer support channels.
Craft buyer personas to understand the main customer categories that convert for your brand.
Your Competition
Knowing which content channels your competitors are targeting, what topics their content is addressing, and where they spend their marketing and advertising budgets can tell you a lot about where you should be focusing your content marketing efforts.
Researching your competition can help you answer questions like:
Who are the main competitors in your niche?
What are they doing that your business isn't? Similarly, what is your business doing that your competitors aren't (yet)?
What are they doing right? What are they doing wrong?
Is your competition doing anything that your business can't match because it lacks the resources, budget, etc.?
Is there anything unique about your business that your competitors can't match?
Some of the ways you can research your competition includes:
Signing up to receive their email updates.
Analyzing their video content.
Tracking their social media activity.
Reviewing their top-performing content (post titles, subheadings, main keywords, word count, social shares,  meta descriptions, etc.).
Attending their webinars and other events.
Tracking changes to their website.
According to BuzzSumo here are the data insights you need to create the best content:
The content volumes and trends for your industry topics.
The most successful articles in terms of shares and links.
The content types and formats that your audience shares.
The evergreen content that gains shares and links over time.
Influential sites for content in your industry.
Competitors' most successful content.
The networks where your audience shares content.
Identify social influencers and backlink opportunities for your content.
Engagement benchmarks.
Researching the key areas and gaining the insights above will provide your business with the valuable information needed to create a content strategy and a content plan.
How To Do Content Research
The best way to do content research is to begin the process and record your findings, thoughts, snippets, ideas, links, quotes, URLs, etc. as you go in an organized manner. This allows you to immerse yourself in the process, document your research, and retrieve the information when it's time to create the content.
Let's break this down into doable steps:
1. Begin The Content Research Process
If you don't know where to begin your content research, you can start with Google Search.
You could begin by simply typing in a keyword search term related to the topic you are researching and looking at the first page (i.e. top 10) search results for your content's topic. This will give you an idea of what it will take for your content to outrank your competitors.
For example, let's say that your business sells supplies for coffee drinkers and you want to create content on ways to make "barista-like" coffee at home.
You could begin the content research process by simply typing in something like "how to make barista coffee at home" into Google…
This immediately provides you with lots of useful information and ideas for new content topics and ways to present content to your target audience.
For example, you can do further research into areas like:
Similar or related article topics.
Article titles, excerpts, and meta descriptions.
Similar or complementary products that users are looking to buy.
Video topics.
Additional information that users are searching for (e.g. the "People also ask" section).
Ideas for new images, infographics, artwork, ad banners, etc.
Opportunities to fill in gaps in your content strategy.
This is a simple yet great way to start. However, you can use Google to dig even deeper into your content research work.
For example:
Look For Paid Search Ads
Businesses don't spend money advertising on unprofitable keyword searches. Ads displaying on search queries indicate there is commercial intent behind the keyword or topic, so it may be worth researching further into ways to try and rank for the keyword in Google's organic search results.
Check Autocomplete Suggestions
Google's predictive search feature (Autocomplete) is a great way to find ideas for long-tail keywords or topics related to your research.
You will also want to research and analyze:
What your target audience shares and engages with on social media, the social influencers they follow, etc.
What your competitors and industry leaders are writing about or discussing on social media.
Forums, industry publications (whitepapers, reports, published research), expert interviews, news sites, case studies, surveys, polls, statistics, etc.
Keywords, including paid ads, related searches, etc.
See this excellent article for more information on completing this step:  30 Best Content Research Tips That Will Make You More Influential
2. Save Time Using Content Research Tools
There are many great time-saving tools and resources available online to help you research content topics and ideas, find sources of authoritative information, analyze keywords, gather data and stats, and more.
For example, in addition to search, Google provides other content research tools you may not have thought of using, such as Google Trends, Google Alerts, Google Scholar, and Looker Studio (formerly Google Data Studio).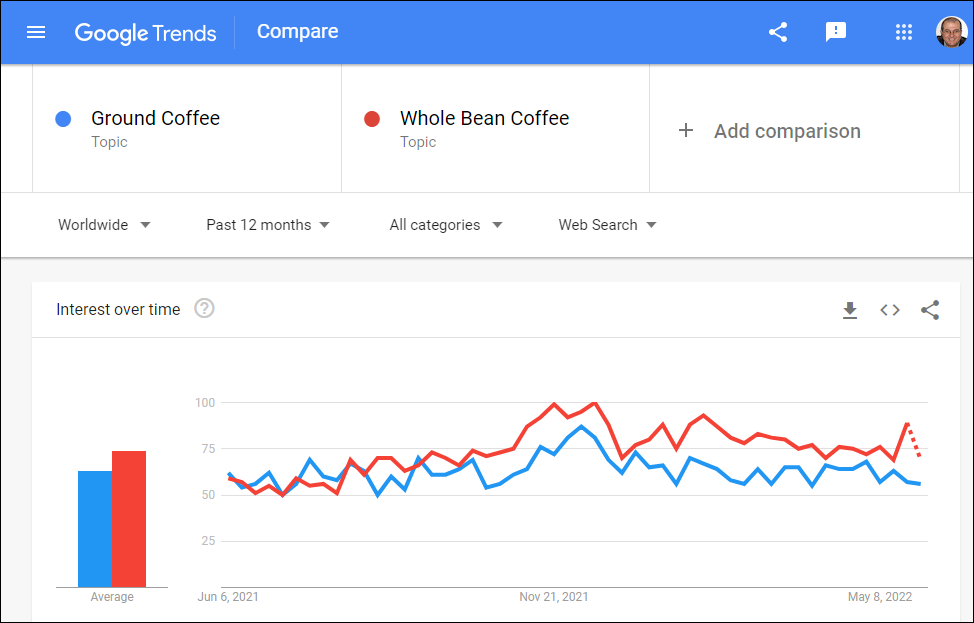 You can use different data sources for your keyword research projects.
For example, you can use Google Analytics to analyze user behavior and site interaction, Google Search Console data to identify mismatches in search intent, Google Trends to identify search behavior for spelling variations (e.g. eCommerce vs e-Commerce) or regional variations, etc.
See the Content Research Tools section for tools and resources that will help you with your content research.
3. Organize & Document Your Content Ideas
In addition to knowing where to go for research and using tools to help speed up your content research, it helps to have a system for organizing and accessing your research information quickly and easily.
For example, you can use tools like your web browser's bookmarks to store useful website URLs…
Content organization tools or apps like Microsoft OneNote let you build up a collection of research notes, copy and paste snippets, ideas for blog posts and web pages, etc. …
For additional tools and tips on organizing and storing your content research notes and information, see the Content Research Tools section.
4. Perform A Content Audit Of Your Existing Content
When researching new content topics and ideas, remember to look at the existing content too. There may already be similar content written that has been previously published by your business.
A content audit can provide valuable information about the state of the content of your business and help you answer questions about what may be missing in the current content compared to your research that needs to be developed, whether the business has already published similar articles, what can be updated, rewritten, consolidated, or discarded, etc.
For more information about creating a content inventory or auditing your existing content, see this lesson: Content Audit
5. Add Topics And Ideas For Discussion To Your Content Planning process
As you gather more research from different sources for your content plan, make sure to update the relevant information in your editorial calendar and communicate these to your team via your content collaboration tools and channels, like your content production team meetings.
Summary
Content research is invaluable to strategic content planning. It can tell you what content to create, how often to create it, where to distribute it, and how to best promote it.
Well-researched content that shows that the business understands the market and the competitive landscape and that connects with its audience can make a significant and sustainable difference to brand visibility, web traffic, lead generation, and revenue.
Action Steps
Review the following sections before you begin researching content. It will help you create great content for your audience:
Resources
References
The articles below contain additional information that you may find useful to complete this lesson:
Next Lesson
***
Image: Woman researching content online.