Content SEO
Learn how to manage your content SEO to help improve your website's search engine results. 
Google defines Search Engine Optimization (SEO) as the process of making your site better for search engines.
If your business depends on managing, monetizing, or promoting online content using Google Search, then it's important to learn about SEO best practices to ensure that your content can be made easier for search engines to crawl, index, and understand, resulting in improved rankings, more traffic to your website, and a better user experience overall.
As more companies compete for search engine results dominance and supremacy, it's important to make every advantage count, however slight.
In this lesson, we focus on strategies and methods you can apply to your content to help improve your ranking.
As stated in this module's overview section, the purpose of this lesson is not to provide a course on search engine optimization, but to help you understand the role of content management as it relates to using SEO in content promotion.
There are many great resources online to help you learn SEO. We list a number of these resources at the end of this lesson in the 'Resources' and 'References' section.
The Role Of Content Management In SEO
Search engines help online users discover your content.
As Google states in its official documentation,
"SEO is about helping search engines understand and present content."
Source: Google
Additionally, as per Google's SEO Guide…
"You should build a website to benefit your users, and gear any optimization toward making the user experience better."
Source: Google
Essentially, what Google is telling us is that your website content should be geared towards helping people understand your content better.
In other words, focus on creating quality content for real users, not search engine robots.
The role of content management in SEO, then, can be boiled down to this single principle: "create quality content".
As this is what Google's search engine algorithms seek to reward, let's start this lesson by looking at exactly what constitutes "quality content" as Google sees it.
Quality Content Is SEO Content
Let's face it…although Google is not the only search engine in town, it is the search engine that matters the most, so if you focus on developing quality content that meets Google's guidelines and specifications, you will pretty much guarantee your content's chance of succeeding on all other search engines.
Fortunately, Google provides extensive documentation on how to meet its quality guidelines.
For example, here is a section of their blog offering excellent advice on how to self-assess the quality of your content to make sure that you are offering the best content you can. Ask yourself these questions:
Content and quality questions
Does the content provide original information, reporting, research, or analysis?
Does the content provide a substantial, complete, or comprehensive description of the topic?
Does the content provide insightful analysis or interesting information that is beyond obvious?
If the content draws on other sources, does it avoid simply copying or rewriting those sources and instead provide substantial additional value and originality?
Does the headline and/or page title provide a descriptive, helpful summary of the content?
Does the headline and/or page title avoid being exaggerating or shocking in nature?
Is this the sort of page you'd want to bookmark, share with a friend, or recommend?
Would you expect to see this content in or referenced by a printed magazine, encyclopedia, or book?
Expertise questions
Does the content present information in a way that makes you want to trust it, such as clear sourcing, evidence of the expertise involved, background about the author or the site that publishes it, such as through links to an author page or a site's About page?
If you researched the site producing the content, would you come away with an impression that it is well-trusted or widely recognized as an authority on its topic?
Is this content written by an expert or enthusiast who demonstrably knows the topic well?
Does the content have any easily-verified factual errors?
Would you feel comfortable trusting this content for issues relating to your money or your life?
Presentation and production questions
Does the content have any spelling or stylistic issues?
Was the content produced well, or does it appear sloppy or hastily produced?
Is the content mass-produced by or outsourced to a large number of creators, or spread across a large network of sites, so that individual pages or sites don't get as much attention or care?
Does the content have an excessive amount of ads that distract from or interfere with the main content?
Does content display well for mobile devices when viewed on them?
Comparative questions
Does the content provide substantial value when compared to other pages in search results?
Does the content seem to be serving the genuine interests of visitors to the site or does it seem to exist solely by someone attempting to guess what might rank well in search engines?
For additional questions that will help you determine whether your content meets Google quality standards, see this section of their blog: What Counts As A High-Quality Site?

If you are tracking your content's performance and notice a significant drop in page rankings, use the above questions to perform a content audit and assess whether quality may be a factor in the search drops.
Improve Content SEO With User Feedback
In addition to self-assessing your content using the above questions, Google suggests getting feedback from unaffiliated users of your site who can provide an honest assessment of your site and content quality.
This can either take the form of user studies or simply trusting Google's processes for determining what constitutes "quality" content.
User Studies
Running user studies can help you understand how real people feel about your site and your content. For example, a platform like UserTesting.com can help you gain insights and feedback about your site's usability and the quality of your content from real human users.
You can then use this feedback to improve your content's SEO.
Search Quality Raters
Google contracts thousands of people (called "search quality raters") to provide insights aimed at improving its algorithm for ranking quality content in the search results.
The video below provides an overview of how Google uses raters to improve its search results…
Search Quality Raters follow specific guidelines designed to assess whether Google's algorithm is indeed ranking quality content in accordance with its own guidelines.
These guidelines are explained in a comprehensive document that is made available to everyone for free and can be downloaded here: Search Quality Evaluator Guidelines
Additional Tips For Improving Content SEO
E-E-A-T
An important part of Google's algorithm for ranking quality content is E-E-A-T, which stands for Experience, Expertise, Authoritativeness, and Trust.
E-E-A-T is one of many guidelines Google uses to determine whether the content is high-quality, valuable to readers and if it should rank well. While it's not a ranking factor in itself, it can have an indirect impact on your content's overall search rankings.
Making your site more authoritative and trustworthy includes making sure your site has an About Us page that tells visitors who you are, Author Pages (whether your site has one or multiple article contributors), content written with expertise, a clear purpose that is regularly updated, and more.
For an excellent and comprehensive series of articles on using E-E-A-T to improve your content's SEO, go here: What Exactly Is E-A-T And Why Does It Matter to Google?
Google's Helpful Content Update
On August 2022, Google launched the "helpful content update" as part of their broader effort to provide search engine users with original, helpful content written by people, for people.
Essentially, the update is aimed at rewarding content creators who focus on "people-first" content, instead of a "search engine-first" approach.
Content that Google deems to provide visitors with a satisfying experience will perform better than content that doesn't meet a visitor's expectations.
The "helpful content update" is simply an extension of Google's long-standing advice and guidelines to create content for people, not for search engines. The content can still utilize SEO best practices but it should primarily focus on creating satisfying content for users,
The post on Google's blog provides a list of questions you should ask to make sure that the content you are creating for your organization aligns with a people-first approach
For example:
Do you have an existing or intended audience for your business or site that would find the content useful if they came directly to you?
Does your content clearly demonstrate first-hand expertise and a depth of knowledge (for example, expertise that comes from having actually used a product or service, or visiting a place)?
Does your site have a primary purpose or focus?
After reading your content, will someone leave feeling they've learned enough about a topic to help achieve their goal?
Will someone reading your content leave feeling like they've had a satisfying experience?
Are you keeping in mind Google's guidance for core updates and for product reviews?
The post also provides questions to ask that will raise warning signs if answered "yes" and help you reevaluate how you're creating content across your site.
For example:
Is the content primarily to attract people from search engines, rather than made for humans?
Are you producing lots of content on different topics in hopes that some of it might perform well in search results?
Are you using extensive automation to produce content on many topics?
Are you mainly summarizing what others have to say without adding much value?
Are you writing about things simply because they seem trending and not because you'd write about them otherwise for your existing audience?
Does your content leave readers feeling like they need to search again to get better information from other sources?
Are you writing to a particular word count because you've heard or read that Google has a preferred word count? (Google doesn't).
Did you decide to enter some niche topic area without any real expertise, but instead mainly because you thought you'd get search traffic?
Does your content promise to answer a question that actually has no answer, such as suggesting there's a release date for a product, movie, or TV show when one isn't confirmed?
The "helpful content update" introduces a new site-wide signal that will run continuously and be considered among Google's many other signals for ranking web pages. It will automatically identify content that appears to have little value, low-added value, or is otherwise not particularly helpful to people searching for information online.
In addition to focusing on "people-first" content, Google suggests removing unhelpful content from your site, as it could help improve the rankings of your other content.
Ai-Generated Content
In February 2023, Google updated its guidelines to clarify its position on using AI-generated content.
Google's approach to ranking high-quality content in search results prioritizes quality over the production method, whether it is human-generated or AI-generated.
Google advises publishers to focus on producing people-first content that demonstrates expertise, experience, authoritativeness, and trustworthiness (E-E-A-T) and that using automation or AI solely to manipulate rankings is considered a violation of Google's spam policies.
Google's focus on rewarding quality content, regardless of production method, continues to this day through its ranking systems and helpful content system introduced last year. It will continue to combat the use of automation and AI-generated content for the primary purpose of manipulating search rankings.
Google realizes, however, that not all use of automation and AI-generated content is spam. For example, many publishers provide automated helpful content such as sports scores, weather forecasts, and transcripts. Google, therefore, aims to take a measured and responsible approach toward AI-generated content while maintaining its standards for information quality and helpfulness in search results.
To help publishers evaluate their content, Google updated its "Creating helpful, reliable, people-first content" help page with guidance on evaluating content in terms of "Who, How, and Why."
Publishers should make it clear who created the content and provide background information about the author. It is helpful to disclose whether automation or AI was involved in the content production process and explain why it was used.
Finally, the purpose of creating content should be to help people rather than to manipulate search rankings. By following these guidelines, publishers can stay in line with what Google's systems reward, regardless of whether the content is human-generated or AI-generated.
Google Search Visual Elements Guide
If you need help understanding the terminology used by Google to improve your content, page, or website SEO, use the illustrations and definitions in Google's Visual Elements Guide to identify common search features in the Google SERPs (Search Engine Results Pages).
A Google SERP includes key elements such as Attribution, Text results, Rich results, Video & image results, and Exploration features (e.g. "People Also Ask."
Each of these elements is explained visually with illustrations showing you how these might look in search results and depictions of the different features included in each of these main search elements.
Google's Visual Guide To Search Elements includes information on over 20 search features with more to be added over time.
Publish Evergreen Content
Evergreen content is search-optimized content that remains relevant and "fresh" long after it has been published and continues to grow traffic over time.
Publishing evergreen content helps to make reviewing and updating content easier.
For this reason, it's a good idea to think about ways to make your content as "evergreen" as possible during your content planning phase, especially when creating cornerstone content, as these will be the most important articles that you will want to rank highest in the search engines.
Here are some simple ways to move toward ensuring that your content stays "evergreen":
First, make sure that your post slug (i.e. the words in your URL) DO NOT contain dates, numbers, or words like "new," "launch", "special-offer", etc.
For example, avoid creating URLs like:
7-top-job-quoting-sites-2022 – Drop the date from the slug. Also, you may need to add more job sites later or one or more of those sites may go out of business. Evergreen URL suggestion: top-job-quoting-sites
new-spring-flower-patterns-collection-launched – Evergreen URL suggestion: spring-flower-patterns-collection
Making your post slug evergreen doesn't affect your Post Title in terms of SEO.
For example, the site shown below features an article with the URL: international-dot-day-get-involved and the post title International Dot Day: Get Involved!.
You can leave the URL and the content as is to keep this post evergreen and simply do the following as shown below to improve its SEO:
Change the post title each year (e.g. 2022, 2023, 2024, etc.)
Update the post publishing date when you republish.
You may still need to do some editing to keep the content current, but you won't need to change the post URL or create a new article (and redirect the old post to the new one).
Anchor Text
What Is An Anchor Text?
An anchor text (or link text) is the visible, clickable text in an HTML hyperlink that allows users to navigate from one webpage to another.
<a href="https://www.somewebsite.com">Anchor Text</a>
Anchor text helps users and search engines understand what the destination webpage is all about and is often given a different look than the rest of the text on a page (e.g. it can be blue, bold, and underlined, like this link to our homepage.)
If we examine the structure of an anchor text, here are its most basic components:
In the above example of the link code, the domain URL inside the HTML tags is the link target (i.e. the destination URL where visitors clicking on the link will be sent to) and 'Tawny Frogmouth' is the visible anchor text for the link.
Anchor Text Types
There are different types of anchor text for internal and external link types:
Exact-match – Including an "exact match" of the page being linked to in the anchor text. For example, linking content promotion to the Content Promotion course lesson page of this site.
Partial-match – Using anchor text that includes a variation of the keyword on the linked-to page. For example, learn how to perform a content audit in our Content Audit lesson.
Branded – Using a brand name as anchor text. For example: 'Google' linking to an article on Google's help site.
Naked link – Using a URL as anchor text. For example, "go here to view our course outline: https://contentmanagementcourse.com/content-management-course-outline"
Generic – Using generic words or phrases as anchor text. Common examples are "click here", "read this article", "visit this page", "read more", etc.
Images – When images are linked, Google will use the image's alt attribute text as the anchor text.
How To Optimize Anchor Text
Search engines consider anchor text to be a reflection of how people view your page and use it to try and understand what your pages are about.
If many sites think that a specific page is relevant for a set of terms, that page can often rank well even if the terms don't appear in the text of the page itself.
Here are some best practices for using anchor text, according to Google's advice for using anchor text:
Ensure that your anchor text is relevant to the page you are linking to. The anchor text should accurately describe the page or the topic you are linking to and make it clear to users what information they can expect to find when they click on the link.
Keep your anchor text concise, descriptive, and succinct. Don't use unnatural-looking long sentences as your anchor text.
Keep anchor text natural and informative and use keyword-rich anchor text sparingly.
Format links to make them stand out from your regular text and make them easier for users to spot. You can change your website's link colors and anchor text styles using HTML or CSS.
While you typically can't control how other sites link to your, "you can make sure that anchor text you use within your own site is useful, descriptive, and relevant." Irrelevant anchor text can confuse both users and search engines.
Using the same anchor text repeatedly can come across as being spammy (to users and search engines) especially exact-match anchor text, so vary the anchor text used throughout your content (i.e. use relevant partial-match variations).
Avoid using generic anchor text whenever possible, as these provide no context, information, or help to users about the topic they will see if they click on the link.
Avoid using naked links as anchor text whenever possible, except when quoting these for reference.
Avoid over-optimizing anchor text, as this can lead to SEO penalties from Google.
Do not use excessive cross-linking, as users and search engines view too many links going to and from the same pages as suspicious.
Learn more about using anchor text for SEO here:
Internal Linking
Internal linking is a proven way to boost your SEO.
When you interlink your articles, you give search engines like Google an opportunity to crawl through your site to discover and index new pages and new content.
When other websites link to your site using a dofollow backlink, that website passes "SEO link juice" (i.e. authority) to your page.
If your pages follow a good internal linking strategy, this authority can spread to all of the other pages that you are linking to.
A content audit can tell you which pages or posts on your site are most important. These are the pages or posts you should be linking to more frequently from your other articles.

See what we've just done in the paragraph above? We created an internal link to our content audit lesson.
To find content on your site that you can link to internally, use the following search string on Google:
site:yourwebsite.com topic
This will bring up all the articles you have published on your site for that keyword or keyword phrase.
You can also use other linking methods like automatic keyword linking to boost the effectiveness of internal linking as an SEO strategy.
Learn more about using hyperlinks in your content in our Link Management lesson.
Speaking of links…
Check For Broken Links
Broken links not only deter visitors from staying on and returning to your site, but they can also negatively impact your search engine rankings.
We recommend checking for broken links as part of your site's maintenance, content reviews, etc.
For tools that can help you check and fix broken links, go here:
Link Redirection
It's a good idea to let search engines know when you change or redirect the URL of a post or page on your website to another page or website.
If your site uses WordPress, for example, then you can easily do this using a plugin like Redirection.
Simply enter the old URL (i.e. the Source URL) and the new URL (the Target URL), click a button, and the plugin will add the necessary code to your site to inform search engines that the page with your content has moved to a new location.

It's also a good idea to trash the old post from your site if it's no longer needed. This helps to keep your content organized and reduces the size of your site's database.
Meta Tags
Meta Tags help both users and search engines better understand your content. They tell search engines what your page is about, how to read it, and who should see it.
Although meta tags do not influence search engine rankings as such, they can help with SEO indirectly by improving areas like content engagement (e.g. making content more compelling to readers and boosting click-through rates) and content organization.
Some common meta tags where you can use custom content to improve on-page SEO include:
Meta Title – The version of the post/article title you want to present to search engines.
Meta Description – Provides a descriptive summary of your page's content.
Post Slug – The section of the URL (web address) that shows after the domain name (and other classification elements like 'categories', 'publish dates', etc. if configured in your website's settings).
Heading Tags (H1-H6) – These help to identify headings and subheadings in your content from other types of text (e.g. paragraph text), and are important for organizing your content (e.g. they help break your content into different sections for your readers).
Image Alt Tags – These describe images used in your content to search engines and people who may not be able to see your content, like visually impaired users (see 'Alt Tags' section below).
Social Media Meta Tags – These let you control how your page will look when shared on social media platforms like Facebook, LinkedIn, Twitter, etc.
Let's look at a practical example of using meta tags to improve your content for readers and search engines.
As shown in the screenshot below, you can publish an article on your blog with a "catchy" Post Title to engage readers while using a different Meta Title to display the article in the search engines using the keywords you would like to rank for.
In the screenshot below, we have also crafted a better post slug (using more concise and relevant words), and a more enticing and compelling meta description.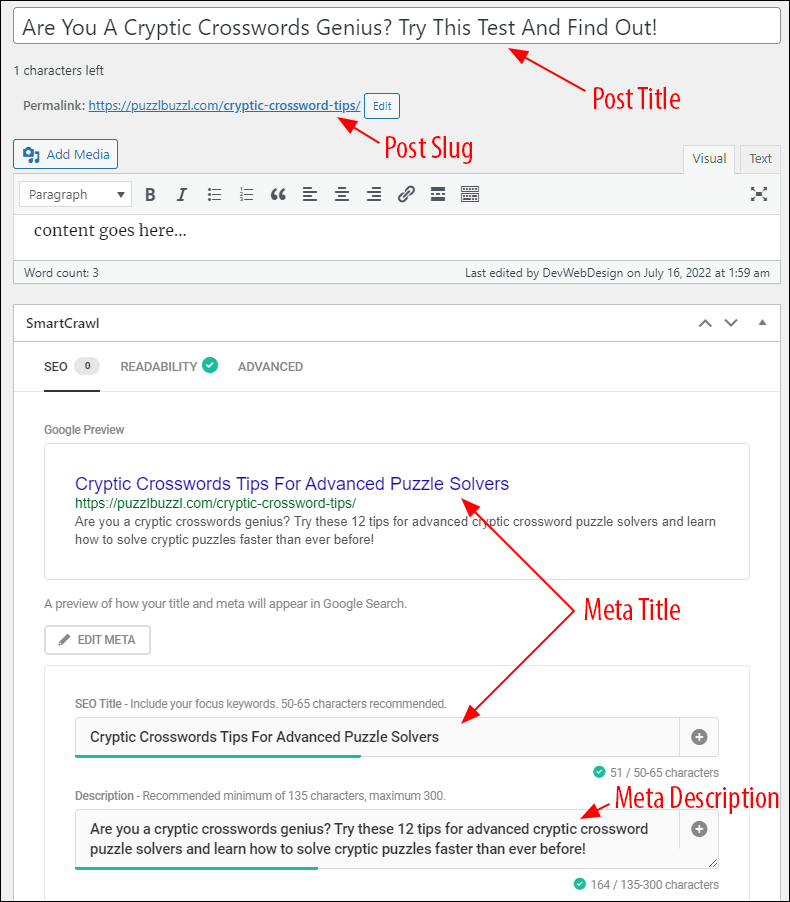 Meta Tags like meta descriptions display as snippets of text in the search engine results under your headline.
You can control how your meta descriptions appear in search engine listings, although sometimes, search engines will choose a snippet of text from your page's content instead if it deems it to be a more relevant match to what users are searching for.
If your website runs on WordPress, you can use an SEO plugin to customize the meta tags for your blog posts.
Some SEO plugins like SmartCrawl, for example, not only let you control how your meta descriptions will display in the search results but they also provide built-in visual guides and best practice character limit counters to help you optimize your SEO titles and descriptions.
You can view the meta tags section of any web page by loading the page into your web browser, right-clicking on the page, and then selecting either 'view source' or 'view page source' depending on which browser you use.
The page code will load into your browser and display your meta tags section.
To view your  meta description tag, look for a section like this:
<meta name="description" content="add content description here..." />
This is the snippet of text that should display in the search results when users search for keywords that your page ranks for.

Google recommends using quality descriptions in your meta descriptions and provides examples of good and bad descriptions in its guidelines for search snippets.
To learn more about using meta tags and optimizing these to improve your content's SEO, see the 'Resources' and 'References' section at the end of this lesson.
Image Alt Tags & Captions
An alt tag (also called an alt attribute) is the text used to describe an image if, for some reason, the image doesn't load in the user's browser.
For example, hopefully, the image below is displayed on this page…
However, if it wasn't, this is what you would see…
You can view an image's alt tag by inspecting the source code of the web page.
Adding descriptive alt tags and captions to your images not only helps your site meet web content accessibility guidelines but is also good for SEO, as these help search engines figure out the context of your page content and better index your images.
See the 'References' section for tutorials on using alt tags and optimizing your images for SEO.
Schema Markup
Search engines want to make it easier for people to find relevant information on the web.
Schema markup is a form of microdata that helps search engines better understand the information on web pages and return more informative results for users.
As explained on Schema.org…
"Most webmasters are familiar with HTML tags on their pages. Usually, HTML tags tell the browser how to display the information included in the tag. For example, <h1>Avatar</h1> tells the browser to display the text string "Avatar" in a heading 1 format. However, the HTML tag doesn't give any information about what that text string means—"Avatar" could refer to the hugely successful 3D movie, or it could refer to a type of profile picture—and this can make it more difficult for search engines to intelligently display relevant content to a user."
Adding schema markup code to web pages creates an enhanced description that search engines use to provide users with richer search results (also known as rich snippets).
There are hundreds of different schema types covering things, people, places, actions, relationships, and more, and each of these different types includes many associated properties.
Rich snippets generated using schema markup can be used to display all kinds of useful information, including product images, prices, and stock levels, star ratings for reviews, store operating hours, events and dates, and a whole lot of other data.
Structured data markup like schema, then, helps to organize the data on your web pages. This not only helps search engines understand your content but also the context of certain words in it.
While there is no evidence that adding structured schema markup to your web pages has a direct effect on your organic search rankings and how Google ranks your content, rich snippets can have a positive SEO impact by improving your content's visibility and making your web pages display more prominently in the search engine results pages (SERPs).
This can lead to better click-through and lower bounce rates, resulting in more traffic to your website and better engagement with users. Schema, then, should be considered an important aspect of your overall content's SEO strategy.
You can add schema markup to your site manually or if your site runs on the WordPress CMS platform, you can use an SEO plugin to automate and make this process easier.
For example, instead of having to generate, copy, and paste code into your website, an SEO plugin like SmartCrawl lets you easily select and configure different schema types and rules using wizards and menus.
Each time you create a new article for your blog that matches the rules you have specified, your site will automatically output the schema markup code required for the search engines.
Build Topical Authority
Topical Authority is where you increase the ranking of existing articles on your site by publishing more articles related to that topic.
To do this, find posts or pages on your site that are already ranking highly (e.g. in positions 2-3) and then create more articles on that topic.
Google will then assume that you are an expert on that topic even if your new articles don't bring in that much traffic. This can sometimes help your site outrank larger and more authoritative sites.
See the Search Optimization Tools section for tools you can use to identify articles on your site that could benefit from this strategy.
Use Sitemaps
Is your content easy to reach? Can users get to any page on your site in three clicks or less?
You can improve your content's SEO by making it easier for search engine spiders (i.e. search bots) to crawl your website and discover all of your site's content using sitemaps.
Two kinds of sitemaps you can (and should) create for your site are HTML site maps and XML sitemaps.
An HTML site map is like creating a table of contents for your site to help users better find your content.
An XML sitemap also lists your pages, but it's aimed at helping search engines better crawl your site's content.
Both types of sitemaps give search bots a page that links to all other pages on your site.
If your site uses WordPress, check out these tutorials on how to create and add HTML site maps and XML sitemaps and see this section for WordPress SEO Plugins you can use to add sitemaps to your site.
Make sure to add your site's XML sitemap and RSS feed to your Google Search Console account.
Search Intent
As explained further below, there has been a shift in content creation strategy in recent years away from keyword-driven SEO  to a search intent-driven and "topic cluster" approach in order to better align with Google's algorithm changes.
Search intent is the reason why someone would write a query and submit it to search engines. It represents an objective that the searcher is trying to accomplish through their online journey.
Source: LazarinaStoy.com
Search intent is also aligned with the buyer's journey and your SEO funnel.
Some of the main types of search intent include:
Informational
Navigational
Commercial
Transactional
Local
These are by no means all the types available. New search intent types (as well as micro intents) can be found when niches exhibit new identifiable search patterns and clusters.
Let's take a brief look at each of these types:
Informational
These searches have a recognized need with no clear solution. The searcher's intention is simply to seek information, locate a particular topic or informational snippet, and ask general questions to learn about something they may be struggling with or better understand potential pathways to a solution.
Informational searches typically contain words like: what, why, how, when, who, which, does, learn, tips, ideas, tutorial, guide, examples, resource, etc.
Navigational
These searches indicate brand awareness and a desire to locate information or pages related to an institution or organization they are already brand-aware of.
The searcher is interested in navigating to a specific destination, e.g. a brand website, a product page, or a solutions landing page.
Navigational searches typically include brand names, product names, service names, locations, or keywords such as: near me, directions to, prices, cost of, etc.
Commercial
Commercial search intent combines characteristics of informational, navigational, and transactional types. The searcher's intent is to compare, evaluate and analyze organizations, vendors, and solutions they are already aware of (and possibly discover new ones in the process), and consider their options.
Commercial searches typically contain words like: buy, price, cheap, cheapest, expensive, coupon, price, pricing, order, purchase, recommendation, recommended, etc.
Transactional
There is a recognized need or desire to obtain something other than information. For example, the searcher may be looking to perform a web-mediated transaction of a recognized product, service, or solution. In other words, the user's search intent is purchase-oriented.
Transactional searches typically contain words like: top, best, review, cheap, cheapest, vs, compare, comparison, etc.
Local
This type of search intent is characterized by a desire to find a solution or complete a transaction to a recognized need that is located in close physical and geographical proximity to the user.
Here, the user's intent is to perform an information and transactional search with the goal of then making a physical (or web-mediated) purchase nearby.
Local searches typically contain words like: near me
***
The types listed above also correspond to the different parts of the marketing funnel (i.e. the buyer's journey toward purchasing).
In simple terms, the lower down the search intent funnel, the higher the likelihood of conversion.
Search Intent And Content Creation
Understanding search intent and where this places the user in your marketing funnel plays a significant part in the type of content you create.
As Google states in its Search Quality Evaluator Guidelines,
"Understanding the query is the first step in evaluating the task."
The more you know about your industry and your target audience, the better you will understand search intent. You can then use this knowledge and understanding to create content better targeted to your audience's search needs and to optimize your existing pages based on the intent they ultimately serve.
For example:
Resource pages (Informational intent) – Blog posts, guides, listicles, resources
Company pages (Navigational intent) – Home Page, About us, Contact us, Company Values, Careers Page, Request a quote, etc.
Product Pages (Transactional intent) – Product pages, service pages, solutions pages, portfolio/what we do, etc.
Keyword Density
Keyword Density refers to the number of times a specific keyword appears on a web page as a percentage or ratio of the total word count.
The higher the ratio, the more the selected keyword appears on your page. If this ratio is too high, Google may perceive this as "keyword stuffing".
General guidelines for acceptable keyword density levels suggest using the keyword 1-2 times per 100 words (less than 2.5% of the total word count.)
Use LSI and Long-Tail Keywords
LSI (Latent Semantic Indexing) are search terms or words related to the keyword that you're targeting.
Long-tail keywords are search queries that tend to be longer and more specific than "broad" keywords. For example, "how to meditate" is a broad keyword search, but "can meditation slow down heart rate" is a long tail keyword. Long-tail keywords typically get a smaller number of searches per month than broad keywords but they are more targeted and often signify buyer's intent (e.g. if someone is searching for ausclimate cool seasons premium 10L desiccant dehumidifier review, they are probably already close to making a buying decision).
Both LSI terms and long-tail keywords provide search engines with context that help them determine what your page is about.
Google is continually improving its algorithm to better understand the search intent behind a user's search query.
In other words, Google is getting better at knowing what users are searching for and no longer needs to try and match exact keywords to rank and display content, so it can show pages that are relevant to user searches even if those pages are not optimized for the specific keywords being searched.
For example, you can use Google autocomplete tool to find LSI and long-tail keywords (or use some of the tools listed in the SEO Tools section).
To find LSI keywords, search for a generic keyword related to your topic…
And to find long-tail keywords search for a more specific keyword…
You can also use Google Search Console to see what keywords you may be already ranking for but not using on the page or content that's ranked.
Use "People Also Ask" and Related Search Phrases
Google monitors user behavior on websites and uses behavior signals to determine whether your content is helpful to users or not.
For example, if users click from Google's search results to your website and stay on your site, that's good. If they land on your site and click the back button or go to a different site, that's bad.
Google wants to present users with sites that deliver what they are looking for and help solve their problems. You can make it easier for Google to rank your pages higher by not only covering your topic well but also by including related subtopics that will make your content more complete and authoritative and turn your site into the "go-to" resource for users looking for information in your niche.
In addition to the tools we have covered earlier, you can use tools like 'People also ask' and 'Related Searches'.
Google lists questions that previous users have searched for in the 'People also ask' section. Use this tool to identify problems that users are searching for and help them solve these with your content.
Google's 'Related Searches' section at the bottom of its results pages is a goldmine of useful information. Use this tool to identify additional long-tail keywords that your competitors might be ignoring and use these in your content to improve your rankings.

You can boost content SEO effectiveness further by combining search intent knowledge with long-tail and LSI keywords (or replacing certain words with their synonyms) in your content.
International Keyword Research
Performing international keyword research for SEO purposes has its own complexities and challenges.
As sophisticated as tools like Google Translate are becoming, it's still very difficult to overcome translational hurdles such as the same words meaning different things in different languages, semantic, cultural, or regional differences, idioms, dialects, homonyms (words that are spelled the same, and sound the same but have different meanings), homographs (words that are spelled the same but sound different and have different meanings), etc.
For this reason, depending on the type of content you are creating and your SEO goals, you may want to employ an expert, specialist, or native translator instead of relying on machine translation tools.
Create An Outreach Email Template
Backlinks are an important factor for getting your pages ranked and building domain authority but building backlinks is difficult if your company is not proactively engaged in doing SEO marketing.
Although email outreach has a low success rate, having an outreach email template you can use after publishing new content to contact other companies and ask them to link to your site can be a tremendous help to your content promotion efforts.
One additional backlink from an authority site can do wonders to boost your site's ranking on Google.
Check out these email outreach templates from HubSpot.
Check For Spam Content
Google detects policy-violating content through automated systems and human reviews. If your content violates any of Google's spam policies, it can lead to your page(s) or website ranking lower in results or not appearing in the results at all (i.e. being de-indexed from Google Search).
For this reason, your content management practices should include reviewing your content regularly to make sure it's not violating Google Search's overall policies or any of the spam policies listed below:
Additionally, here are some other behaviors that can lead to demotion or removal of your pages or website from Google Search:
Pillar Pages, Topic Clusters & Silos
The traditional content model consists of a website with a blog and articles or blog posts published under different blog categories.
This is fine. If you are writing articles or blog posts based on the keywords you want to rank for, however, your blog can become quickly filled with repetitive, bloated, and disorganized content, making the information harder to manage.
Over the past several years, content creation strategy based on Google search ranking has been shifting away from keyword-centric SEO to topic-focused SEO and ranking content based on search intent-driven topics, not keywords.
So, while traditional keyword research based on criteria like keyword volume and keyword competition is still useful for content planning, it's important to understand the concept of Topic Clusters and how to implement this model if you want to rank for multiple keywords on different topics.
Topic Clusters
A topic encompasses a collection of keywords that explain your subject matter.
A topic cluster is a group of related content covering a broad theme, where each cluster covers a single topic.
This content can consist of detailed in-depth articles or blog posts, which then become the subtopics of your main topic cluster.
Once you have worked out your buyer personas (so you can understand who you are creating content for, their needs and pain points, etc.), you can use content idea generation tools like AnswerThePublic.com to create content clusters around a central topic.
A topic cluster, then, is an SEO strategy that focuses on topics, not keywords, and informs Google that there is a semantic relationship between your content
This relationship is formed by linking your topic clusters to and from a pillar page.
Pillar Pages
A pillar page is a web page that provides a high-level overview of a topic on a single page and hyperlinks to clusters of related content, or subtopics.
"Pillar pages broadly cover a particular topic, and cluster content should address a specific keyword related to that topic in-depth.

Pillar pages are longer than typical blog posts because they cover all aspects of the topic you're trying to rank for but they aren't as in-depth. That's what cluster content is for.

You want to create a pillar page that answers questions about a particular topic, but leaves room for more detail in subsequent, related cluster content."
Source: HubSpot
Your Pillar page should link to each cluster page via the keyword that best represents the focus of that cluster and each cluster page should link back to the pillar page using the same keyword that represents the focus of the pillar page.
This way, when one page in the cluster performs well, the entire topic cluster gets a boost.
Articles and blog posts covering subtopics can link to additional subtopics via other articles and posts to expand further on the content and create a comprehensive, detailed, and authoritative topic cluster.
With the Topic Cluster model, then, your content SEO strategy should be to link your website to the pillar page(s) of your topic clusters, allowing users and search engines access to an organized structure of interlinked related content.
With this website, for example, you could say that the Course Outline page is the site's pillar page, and each of the main course modules (e.g. Content Strategy, Content Planning, Content Production, Content Promotion, Content Management, etc.) are the topic clusters around which this course and its lessons are built.
The video below provides a very brief overview of topic clusters:
The video below provides a practical tutorial on how to create effective topic clusters and pillar pages.
This video provides great examples of creating pillar pages and keyword content clusters:
And, if you want to get more in-depth into the topic, this hour-long video shows you how to group keywords and build topic clusters at scale:
For more information on creating pillar pages (with examples and templates), see the "References" section of this lesson.
Silos
It's worth noting that many experts advocate using SEO siloing over topic clustering for your content SEO, while other experts say that siloing makes no sense.
While both SEO Siloing and Cluster Content architecture have a similar aim to organize your site and make it easier for visitors and search engines to understand your content by following a central theme from a higher-level topic overview down to ever more in-depth related topics and subtopics, there are some key differences.
In silo architecture, for example, content is organized into a hierarchy where the content is divided into clear, distinct categories that flow from top to bottom (i.e., from general information pages to specific information pages) much like a chapter in a book, where the silo represents a group of themed or subject-specific content on your site and it doesn't cross-link to other silos.
Silo architecture also requires a lot more planning in advance of building a website than cluster content architecture.
It requires a multistep process of planning and implementation where the website theme first has to be clearly determined, then the theme is built using either physical or virtual silos, and then expert-quality content is created for each of the theme's silos using relevant, targeted keyword-rich phrases.
For a good explanation of the differences between silos and topic clusters, see this article: SEO Silo Strategy vs Cluster Content Architecture
Technical SEO
While this lesson focuses on how to improve your content's SEO, it's important not to ignore the technical aspects of SEO, as these can hurt your rankings even if your content is perfectly optimized.
For this reason, we recommend making sure that all areas of SEO are covered.
SEO Site Audit
Google provides a whole range of tools and reports to help you fix technical SEO issues. Learn more about Google's Tools and Reports.
Follow the recommended steps below to run an SEO audit and ensure that your rankings will not be affected by technical SEO problems:
Google Search Console. Check the Index Coverage report and fix any errors that are causing indexing issues. Also, check for Manual Actions that need addressing, Security Issues that need fixing, or pages that are not passing Google's Core Web Vitals. Look for opportunities to improve these pages.
Check Your Site's Mobile Friendliness. Google uses the mobile version of your website to determine where to rank you (mobile-first indexing). If using WordPress, make sure to use a mobile-responsive theme and that all plugins load and display correctly on mobile devices. Use Google's Mobile Usability Tools And Reports.
XML sitemap – Make sure your sitemap is configured correctly and can be found in Google Search Console.
Check your site's page loading speed. Use a tool like GTMetrix to analyze your page loading speed and detect issues. Remove any unnecessary scripts or plugins that are slowing down your website. If your site runs on WordPress, use a free speed optimization and caching plugin like Hummingbird and an image compression plugin like Smush to further reduce your site's page loading speed and serve pages faster.
Check your site for broken links. See these lessons for information and tools you can use to check and fix broken links: Search Optimization Tools, WordPress SEO Plugins, and Content Linking Management.
HTTPS – Make sure you have set up https:// correctly. If required, set up redirects to ensure that all http:// pages redirect to their https:// equivalent.
robots.txt file – Check to ensure that crawlers aren't blocked from accessing any pages by mistake.
Identify and remove thin or duplicate content. If your site contains multiple versions of a page, use canonical tags to specify which page should be prioritized.
Verify structured data. Make sure it is working correctly (use Google's Rich Results Test and Schema Markup Validator tools).
Run regular site audits (e.g. 2-4 times per year) to check for issues that can affect your rankings.
Summary
Content management plays an important role in search engine optimization.
Understanding SEO best practices and adhering to Google's content quality guidelines will ensure that your content is made easier for search engines to crawl, index, and understand, resulting in improved rankings, more web traffic, and a better user experience overall.
It's also important to have an overall content SEO strategy in place and a plan to follow. Different SEO models include keyword-based content writing, cluster content architecture, and SEO siloing.
Action Steps
Familiarize yourself with general SEO guidelines for creating quality content and pay careful attention to areas that can impact your content's SEO like E-A-T, meta tags, and schema markups.
Chose an SEO blueprint for your content strategy. With this site, for example, we use a model for creating our training modules and lessons that more closely resembles using topic clusters than keyword-based articles or silos.
Use the tools referred to in this lesson to find additional ways to make your content more authoritative and appealing to search engines, such as using sitemaps, improving your internal linking, and using LSI and long-tail keywords to help rank your content higher.
Be proactive with your SEO. For example, ask other websites to link to your content using an email outreach template.
Resources
Google
Refer to the sections below for information on how to create better-quality content as per Google's content quality guidelines and documentation
Moz
Learn everything you need to know about SEO – for beginners to advanced users:
Schema.org
Schema.org is a joint effort supported by top search engines like Google, Yahoo, Bing, and Yandex to improve the web by creating a structured data markup schema. Schema.org provides a single place to learn about schema markup and defines hundreds of item types and properties that are most valuable to search engines.
Also:
References
Next Lesson
***
Image: Google Search