Image Tools
Create and edit images, logos, infographics, charts, graphs, flowcharts, and covers for your eBooks, guides, and reports with these image tools and resources.
This section covers media creation tools referred to in various lessons throughout this course.
Use the tools and resources on this page to create and edit media like:
Images, illustrations, photographs, and screenshots
Logos
Covers (eBooks, Reports, etc.)
Infographics
Flowcharts, charts & graphs
***
Image Creation Tools
Use the image tools below to help you create professional images and screenshots.
Screen Capture Software
Screen capture software is useful for creating tutorials, training documentation, explaining product features, etc.
There are various images tools available that you can use to capture screenshots and add them to your content.
Snagit
Snagit is a powerful and feature-rich screen capture and recording software tool that lets you quickly and easily capture images of your screen and camera, create screencast videos, add additional context, and share your images, GIFs, and videos across different platforms.
You can capture your entire desktop, a region, a window, a scrolling screen, or a full-page, scrolling panoramic screenshot, mark up your screenshots with text, arrows, and callouts, trim your video screencasts, use pre-made layouts and templates to create visual instructions, tutorials, guides, and training materials…even capture text from images.
With Snagit's screen recorder tool, you can:
Record yourself working through different steps or grab individual frames from your recorded videos, then save your video files as an mp4 or animated GIF.
Include audio in your videos from a microphone or your computer's system audio.
Record your screen or camera (or record them both at the same time with picture-in-picture).
Turn short MP4 recordings into animated GIFs.
Trim video clips and remove unwanted sections from your screen recordings (e.g. cut sections from the beginning, middle, or end of your videos).
Create videos from images, talk, and draw over a series of screenshots to create quick "how-to" videos or GIFs.
Automatically make objects in your screen captures movable. Rearrange buttons, delete text, or edit other elements in your screenshots (e.g. delete or move a captured cursor icon).
Sync your image captures to cloud services.
You can also share or save your images and videos to Microsoft Powerpoint, Microsoft Word, Microsoft Excel, Microsoft Outlook,
Google Drive, TechSmith's Camtasia, Gmail, Dropbox, Slack, YouTube, Twitter, and many other applications.
Snagit is a paid tool, but it offers a fully functional 15-day free trial version,
More info: Snagit
Screenrec
Screenrec is a free alternative to SnagIt. It's a full-featured cloud-based screen capture, screen recorder, webcam, and voice-recording tool that lets you capture screenshots and record your desktop in one click and share these instantly with no watermarking or time limits.
More info: Screenrec
Image Editing
Use the tools below to edit your images.
Photoshop
Photoshop is the world's leading image editing software tool.
Photoshop lets you do virtually anything with images…from simple image editing and photo touchups to highly sophisticated advanced image editing tasks like removing backgrounds from photos, composite image creation, adding overlays, text effects…even creating website mockups!
More info: Photoshop
GIMP
If you don't want to invest in a program like Photoshop but would still like to be able to create your own images, then you may want to look at a free software program alternative like GIMP.
GIMP (GNU Image Manipulation Program) is a free graphic editing software that requires no Photoshop skills and can be used to create and edit images, Facebook covers, video graphics, flyers, infographics, business cards, YouTube channel art, banners, headers, and more.
More info: GIMP
Colorcinch
Colorcinch (formerly Cartoonize) is an easy-to-use, fully-featured, web-based image editing program and photo editing software that lets you edit photos and create realistic paintings, artwork, memes, cartoons, sketches, etc.
You can use the tool to import and edit existing images and enhance it with all kinds of cool effects…
Creates memes for social media, and more!
Colorcinch provides loads of great features and essential built-in tools for quick and easy image editing including cropping, resizing, exposure and color adjustments, vignette, sharpen and clarity enhancements, a full-fledged text editor, masking, layering, blending, and more!
You can also create and organize project elements with layers, export images for high-quality print (up to 400 DPI), and access the software from your internet browser or install it as a standalone app.
The free version (called Basic) requires no registration and provides access to a number of essential effects and features.
The paid version (called Plus) provides access to all premium effects and features, all graphics and icons, higher resolution export options, and much more.
More info: Colorcinch
Logo Makers
Logo makers are ideal for testing out content ideas (e.g. creating example companies to show how your products or services work), presentations, etc.
See our section on logo makers if you are looking for tools that can help you generate professional logo designs quickly, easily, and inexpensively.
eBook Cover Creators
You can create eBooks as PDF documents and use realistic 3D images to create attractive-looking covers to promote your publications.
You don't need to hire an expensive designer to create your eBook cover. You can use Photoshop with action scripts like the one below to create stunning eBook covers quickly and easily.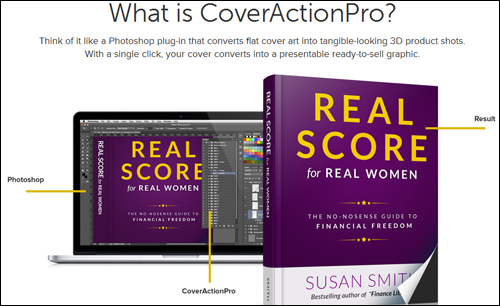 CoverActionPRO is a Photoshop plug-in that lets you create high-quality, realistic ebook covers and product shots.
Essentially, you create a flat book cover image and then use an ebook or product shot template in Photoshop to create your eBook cover.
For example, you can use your cover image with "hardcover" eBook templates…
"Softcover" (i.e. paperback) eBook templates…
Create binders and notebooks (great for "special reports")…
Even product shots, software boxes, CDs, and more …
The video below provides a demo and preview of this tool:
CoverActionPro demo and preview. Note: CoverActionPro requires Photoshop
For more information about this ebook cover creator software, go here: CoverActionPRO
For more eBook cover creation tools and tutorials, go here:
Infographic Creation Tools
Use the tools below to create infographics.
Venngage
Venngage is a very popular tool used to create infographics. It offers a handy image search feature that makes finding and adding images to your infographics really easy, and thousands of infographic templates created by a team of professional graphic designers.
While this software is primarily aimed at helping users create infographics, it can also be used to create diagrams, reports, and more.
Venngage offers a free plan and paid subscriptions, which include features like font uploading, the ability to export in Powerpoint, and interactive PDF options.
More info: Venngage
Adobe Express
Adobe Express lets you create infographics for free very quickly and customize them with images, icons, fonts, and graphics.
With Adobe Express, you can design a unique infographic by choosing a template, customizing it with your branding, logo, text, colors, and more, then resizing it to share via email, social platforms, and print media.
Use the tools and templates from Adobe Express to make step-by-step guides, statistical graphics and charts, timelines, recipes, polls, lists, comparisons, and more.
You can also use the libraries of icons and design assets to find shapes, lines, and graphics to display data, upload chart images, crop them or remove the background to add them to your infographics and turn any new or existing project into shareable templates.
The free infographic maker is easy to use and offers many features including thousands of templates, photo editing and effects, animation, and 2GB of storage.
More info: Adobe Express

For more infographic creation tools, visit these sites:
Biteable
More info: Biteable
Canva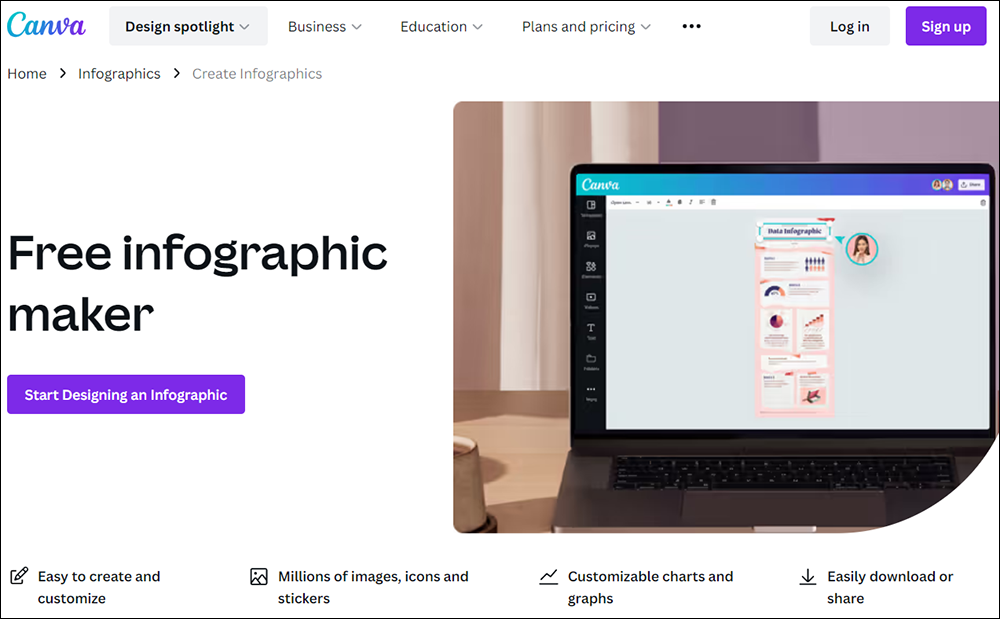 More info: Canva
DesignCap
More info: DesignCap
Infogram
More info: Infogram
Mural
More info: Mural
Piktochart
More info: Piktochart
Snappa
More info: Snappa
Visme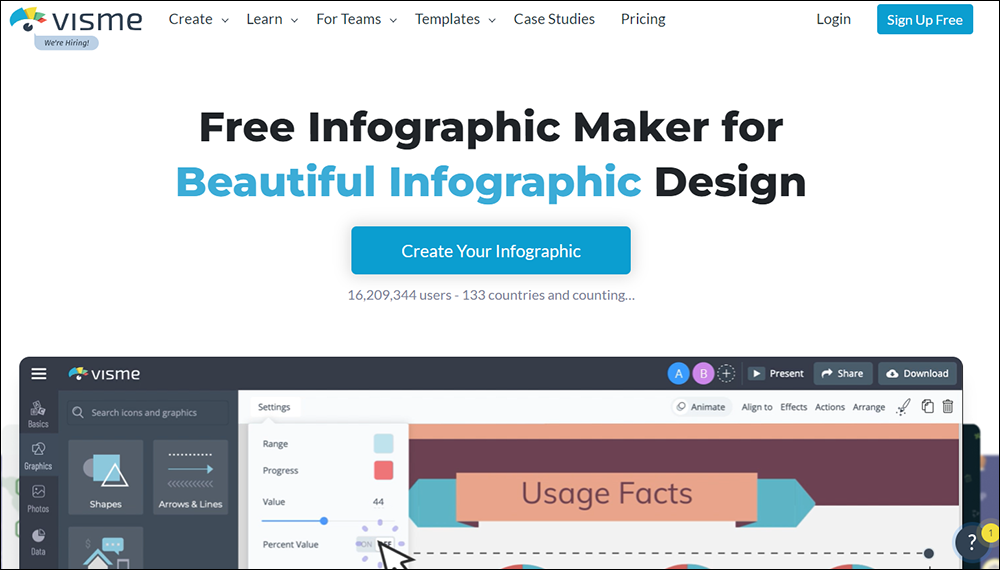 More info: Visme
For additional infographic tools, resources and tutorials, go here: Content Marketing With Infographics
Flowchart, Chart & Graph Tools
The tools below will help you create flowcharts, charts, and graphs for your content.
Google Drawings
Google Drawings is a diagramming software and collaborative virtual board tool inside Google Drive that allows you to create content by drawing, pasting images, linking videos and websites, and inserting text, shapes, tables, and other content.
Google Drawings is included as part of the free, web-based Google Docs Editors suite offered by Google.
To access the tool, go to Google Drive, click New > More and select Google Drawings…
You can use this free tool to create flow charts, diagrams, infographics, concept maps, mind maps, collaborative visual storyboards, original art and custom graphics for presentations, design wireframes, annotate screenshots, and even create hotspots on images that you can embed into your content, or download and share as a PDF file.
Here's a great video tutorial on how to use Google Drawings:
Google Drawings is a powerful but underutilized tool worth exploring, especially as it's free!
More info: Google Drawings
Google Charts
Google Charts is another excellent free tool from Google that lets you create interactive graphical charts from information that you supply.
Use Google Charts to create all kinds of charts, from simple line charts and pie charts to complex hierarchical tree maps, plus graphs, infographics, and more. Add the charts to your content and display these on your website, embed them into presentations, lead generation reports, etc.
Google Charts also provides a chart gallery with many ready-to-use interactive charts and chart types.
Here's a great short video showing you how to add animated Google Charts to a spreadsheet.
The most common way to use Google Charts is by embedding simple JavaScript into your web pages.
More info: Google Charts
Microsoft Powerpoint
Microsoft PowerPoint also lets you create and add simple charts and graphs to your content.
For tutorials on creating charts in PowerPoint, go here or watch the short video below:
Microsoft Office also provides many different chart types and templates you can use to create charts and graphs in PowerPoint.
Note: You can make a chart in PowerPoint or Excel. Microsoft recommends creating your chart in Excel and then copying it into your presentation if you have lots of data to chart or if your data changes regularly and you want your chart to always reflect the latest numbers (if so, when you copy and paste the chart, keep it linked to the original Excel file).
More info: Using Charts And Graphs In Microsoft PowerPoint
yED Graph Editor
yED Graph Editor is a freeware tool that lets you create flowcharts and generate high-quality diagrams quickly and easily.
You can download yEd as a desktop application that runs on all major platforms or use yEd Live, the browser version of the desktop application, which requires no installer.
yEd features automatic layout algorithms that let you organize complex flowcharts with a press of a button.
yEd Live is the browser version of the powerful yEd desktop application. No more installer is needed to quickly and effectively create high-quality diagrams.
This feature is shown in the video below:
Here is a 5-minute tutorial on creating a flowchart using yED:
More info: yED Graph Editor

Here are some additional flowcharting tools you may want to look at:
Cacoo
More info: Cacoo
ConceptDraw Diagram
More info: ConceptDraw Diagram
Edraw Max
More info: Edraw Max
Gliffy
More info: Gliffy
Lucidchart
Lucidchart – Create flowcharts with collaboration and data import features
More info: Lucidchart
Microsoft Visio
More info: Microsoft Visio
Microsoft Powerpoint
More info: Microsoft Powerpoint
Miro
More info: Miro
Terrastruct
More info: Terrastruct
VisualParadigm Online
More info: VisualParadigm Online
Whimsical
More info: Whimsical
Video Courses For Beginners – Media
The video courses below cover basic areas of media production and editing and are ideal for beginners (note: you can access all of the video courses below with a single all-access pass):
Learn how to access and use free image creation and editing tools, basic and advanced image editing techniques using tools like Photoshop and free alternatives, creating images for web content, presentations, infographics, social media, and so much more.
More info: Using Graphic Creation Tools
Learn how to create beautiful and engaging presentations that will help you sell more products and services online.
More info: How To Create Engaging Presentations
For more video courses, see this section: Digital Business Video Courses
***
See the sections below for additional image-related tools and resources:
Return To The Main Tools And Resources Section
Image: Photoshop