Content Research Tools And Resources
Useful content research tools, sites, and resources to help you save time in areas like content planning and content production.
The World Wide Web is a huge library of content research.
In this section, you will find many useful content research tools, sites, and resources to help you in areas like content planning and content production, including:
Researching new content topics and ideas
Finding new content opportunities
Exploring current trends
Gathering data and stats to back up your arguments
Identifying profitable keywords and niches
Researching content for distribution in channels like blogging, social media, email marketing, etc.
***
AI-Powered Content Research
You can use AI technologies for content research and content planning, such as generating content ideas, creating article outlines, etc.
We explore various AI tools that you can use to research and plan your content in this section: AI Content Writing Tools
Additionally:
Google
One of the easiest ways to begin researching content is to Google it.
Start with a topic or keyword related to your business, niche, or industry and enter it into the Google search bar to begin exploring content ideas.
Additionally, as you type, you'll notice that Google displays an autocomplete list of search terms below the search field where you have entered your keywords.
You can use the Google Autocomplete tool (formerly called Google Suggest) to explore additional content related to your search, build a list of keywords or topic ideas, etc. (Tip: learn how to manage Google's Autocomplete predictions).
After you hit enter on any search term, Google displays even more content ideas you can explore.
For example, you have the People also ask tool, which you can use to research content ideas on ways to solve problems your customers may be experiencing…
Google also displays the Related searches tool with topic-related content ideas you can research…
Add additional search terms you can click on for even more content-related research…

Don't forget other search engines like Bing, DuckDuckGo, etc. You might find different answers and additional suggestions there to expand your content research.
Not only can you do a ton of content research using only Google search but there are also other free content research tools that Google offers.
Let's explore some of these.
Google Chrome Browser Extensions
Chrome browser extensions are small software programs that you can install to add new features or modify existing functionality in the Google Chrome web browser.
These extensions can not only enhance your experience as a user, increase productivity, and provide additional security and privacy measures, but there are many useful extensions that can be used for content research, content planning, content creation, etc.
To access Chrome browser extensions, follow these steps:
1. Open the Google Chrome browser on your computer.
2. Click on the three-dot icon located in the upper right corner of the browser window to open the main menu.
3. Select "More Tools" from the dropdown menu, and
4. Click on "Extensions" from the submenu.
5. This will open the Extensions screen where you can view and manage any extensions you have added to your web browser. Click on the Hamburger menu icon in the top-left corner of the screen to access the Main menu.
Click on the link at the bottom of the menu.
This will take you to the Chrome Web Store, where you can browse and download a variety of Chrome browser extensions.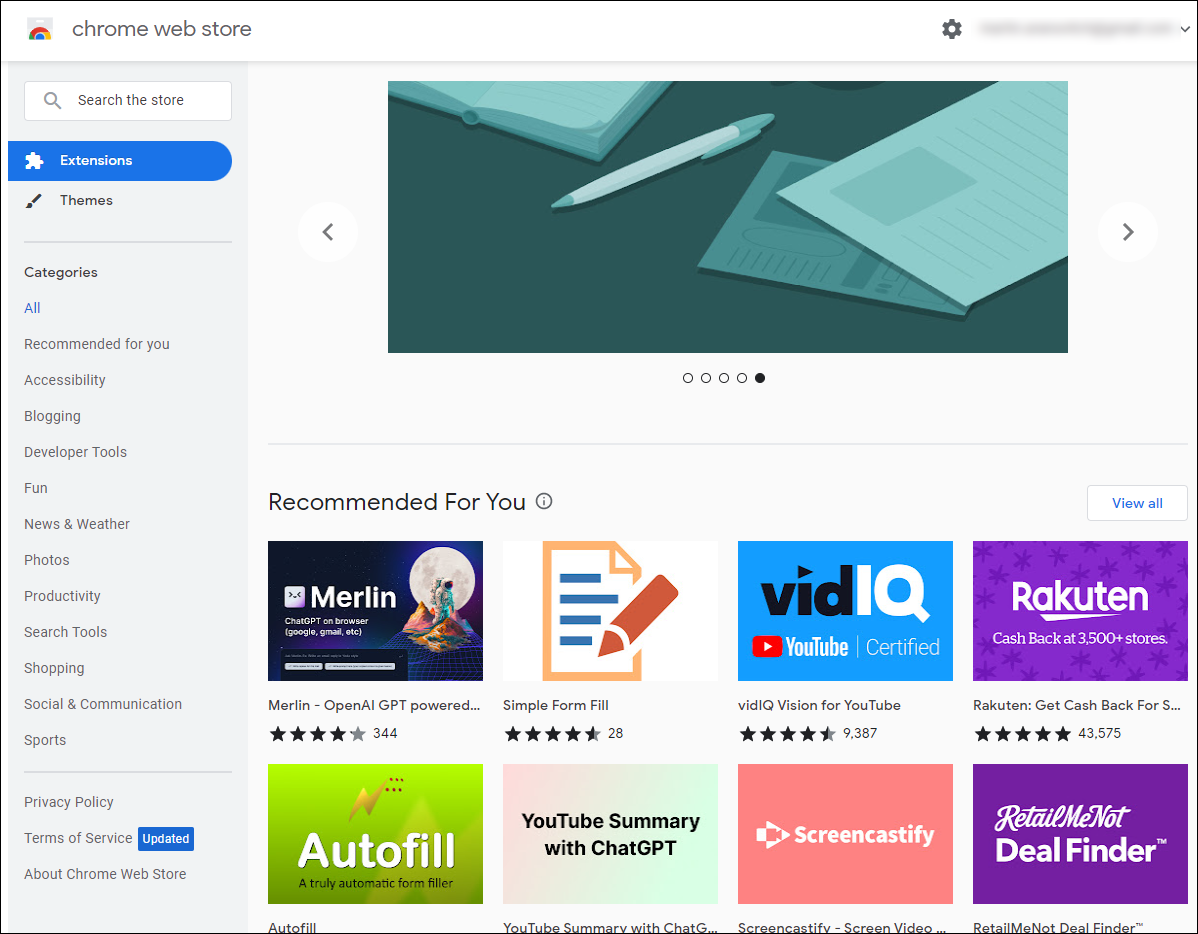 Use the search bar to search for specific extensions, or browse through the various categories available.
When you find an extension you want to install, click on the extension to select it.
Click on the "Add to Chrome" button to install the extension.
A pop-up window will appear, asking you to confirm the installation. Click on "Add Extension" to confirm.
The extension will then be installed in your Chrome browser and will be visible in your toolbar or in the extensions menu.
To manage your installed extensions, you can access the extensions menu by clicking on the three-dot icon and selecting More Tools > Extensions.
From there, you can enable or disable extensions, remove them, or adjust their settings as needed.
You can also Pin or Unpin extensions from your toolbar by right-clicking on the Extensions icon in the toolbar and selecting your preferred option.

Tip: Use the "Related" tab to find additional extensions related to the functionality you're searching for.
Google Trends
Google Trends is another free service from Google that shows you trends in search activity all over the world, with access to maps, charts, and other tools.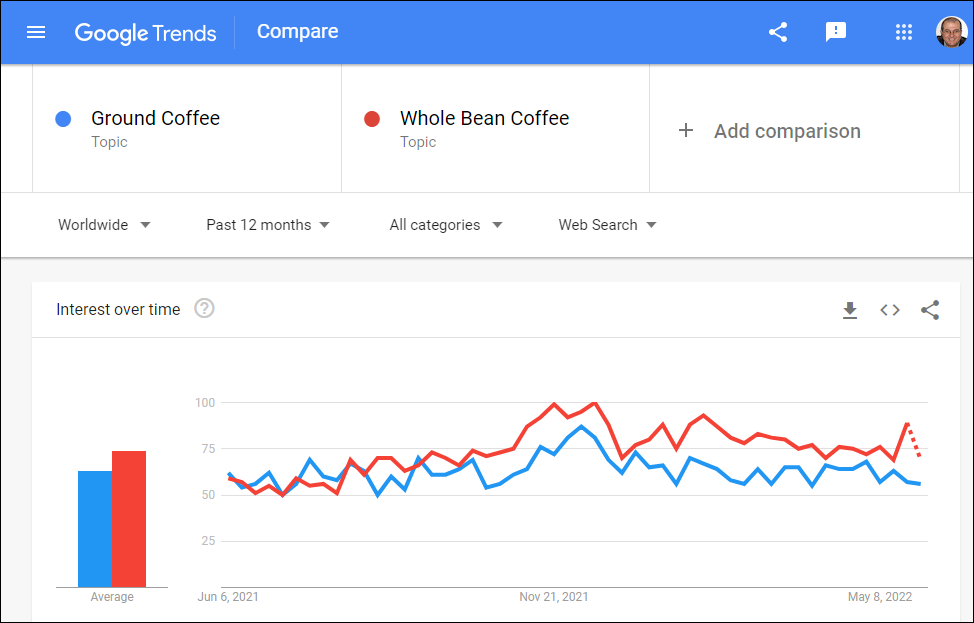 You can use Google Trends to compare search volume activity for related topics or similar keywords over a given period of time across different regions or languages, gauge public reaction to real-time events and news stories, monitor trends across different areas of interest (social, political, business, entertainment, sports, etc), optimize SEO for video or local search, glean insights about products and service demand, forecast and predict trends, etc.
Google Trends is also a great tool for identifying the seasonality of topics in your niche or industry. You can use this information to plan your editorial calendar with content promoting those topics during their peak season.
For an excellent article on how to use Google Trends, go here.
You can also download key datasets from Google Trends at the Google Trends Datastore.
More info: Google Trends
Google Alerts
Google Alerts is a free service from Google that lets you keep up-to-date with the latest news about all kinds of topics, stay informed about people and companies, and track what other people are publishing about you and your business online.
More info: Google Alerts
Google Lens
Google Lens is an image recognition technology developed by Google and available as an app for Android phones that uses artificial intelligence to identify text and objects in images and in a live view from a phone's camera.
Google Lens lets you do "real world" content research faster using your mobile phone's camera.
When you point the phone's camera at an object with the app installed, it tries to identify the object by reading barcodes, QR codes, labels, and text, and shows you relevant search results, web pages, and information.
For example, here is a photo taken of a tea bag label with Google Lens installed on an Android phone…
Google Lens immediately identified the object and returned relevant search results…
When you point your phone's camera at an object, Google Lens gives you the following options:
Translate – take a photo of words to translate
Text – take a photo of words to copy
Search – Search for information related to the object
Homework – Take a photo of a homework question
Shopping – Take a photo of products or barcodes
Places – Identify landmarks, buildings, etc.
Dining – Take a photo of food or a menu
You can scan and translate text from a physical document like a book, paper, business card, whiteboard, or with writing on it, then copy that text to your phone's clipboard, and paste it into anything – a Google Doc, email, note app, Slack chat, etc.
You can also use Google Lens to identify plants and animals, and get information about landmarks, restaurants, and storefronts (e.g. historical facts, ratings, hours of operation), as well as find information about similar clothes, furniture, home decor, or other objects that you come across.
Google lens is an excellent content research tool. You can copy text from objects and send it to your computer, interact with text from images, search for online images that match real-world objects, save contact information, create calendar events, find answers to questions, and a whole lot more.
See this article for more ways to use Google Lens or scan the QR code below with your Android phone to download the app to your phone from the Google Play store:
More info: Google Lens
Google Scholar
Google Scholar is another useful tool from Google that lets you expand your content research by searching for information across academic literature from journal websites, university repositories, Google Books, etc.
The Google Scholar index includes peer-reviewed online academic journals and books, conference papers, theses and dissertations, preprints, abstracts, technical reports, and other scholarly literature, including court opinions and patents.
The video below provides more information on using Google Scholar:
More info: Google Scholar
Looker Studio
Looker Studio (formerly Google Data Studio) is a free tool that gives you powerful insights into your website's performance from various data sources like Google Search, Google Analytics, Google Ads, YouTube, social media platforms such as Facebook, Reddit, and Twitter, databases, etc.
For tutorials on using Looker Studio, go here:
More info: Looker Studio

We recommend using Looker Studio with the free Search Intent Keyword Classifier dashboard template designed for search intent-based content creation developed by Lazarina Stoy.
To learn more, go here or watch the video below:
To download the template, go here: Search Intent Keyword Classifier Template
For a tutorial on using the template, go here: Supercharge Your Keyword Research Process By Incorporating Search Intent Classification
Exploding Topics
Exploding Topics helps investors and entrepreneurs find new and upcoming trends before they become popular.
The tool uses a special algorithm to analyze millions of searches, conversations and mentions across the internet to identify under-the-radar industries, products, and categories.
More info: Exploding Topics
Infographiqs
Infographiqs is a search engine for infographics.
Simply type in a search term into the search engine field, and its extensive database returns relevant and accurate results on where to find infographics matching your search term.
From there. click on an entry from the results to visit the site with the infographic.
Use this site to find and review infographics you can cite and add to your content.
More info: Infographiqs.com
Buzzsumo
Buzz Sumo provides access to comprehensive and data-driven content research.
Use BuzzSumo to:
Find the best performing content that will help you get more likes, links, and shares
Identify influencers that can help your brand or campaign, and
Track comments and trends on social media so you can respond faster and capitalize on opportunities.
We also cover Buzz Sumo in the Search Optimization Tools section.
More info: Buzz Sumo
Wolfram Alpha
Wolfram Alpha is an answer engine based on natural language processing and a large library of algorithms.
According to the website:
Wolfram Alpha represents a fundamentally new paradigm for getting knowledge and answers—not by searching the web, but by doing dynamic computations based on a vast collection of built-in data, algorithms, and methods. Bringing broad, deep, expert-level knowledge to everyone… anytime, anywhere.
Wolfram|Alpha aims to make all the world's knowledge computable by computing expert-level answers using Stephen Wolfram's breakthrough algorithms, knowledgebase, and AI technology.
Its mission is to collect and curate all objective data; implement every known model, method, and algorithm; and make it possible to compute whatever can be computed about anything.
In terms of helping you with content research, Wolfram Alpha's website is divided into several categories, like Mathematics, Science & Technology, Society & Culture, and Everyday Life. Each of these areas contains many subcategories.
So, for example, go to Everyday Life > Personal Finance and you will find ways to compute useful answers to thousands of personal finance questions, from computing interest rates to analyzing and projecting returns on stocks and other investments, converting world currencies, and more.
The website builds on the achievements of science and other systematizations of knowledge to provide a single source that can be relied on by everyone for definitive answers to factual queries.
Visit the site: Wolfram Alpha
Feed Readers
Feed Readers save you time visiting all of the different sites you like to keep up with when searching for new content posted on these sites, by allowing you to view all of the content on your desktop or phone from a single source.
Feedspot
As the video below states…"things move fast on the web and it's hard to keep up with your favorite sites by visiting each of them separately. Feedspot lets you subscribe to websites so new content comes to you when it's posted."
Like most feed readers, Feedspot lets you add feeds from different sites to its service, as well as feeds from blogs, podcasts, YouTube channels, news sites, and RSS feeds. You then view the aggregated content from the tool's content reader.
Watch the video below for an overview of Feedspot:
More info: Feedspot
Reports, Case Studies & White Papers
Get valuable insights into the latest trends, research reports, case studies, and white papers by performing a Google search for:
Reports: [your industry] + [research report].
Case Studies: [your industry] + [case study].
White papers: [your industry] + [white paper].
You can also link to tweets, papers, or reports from industry professionals and subject experts.
Subject Matter Experts (SME)
"A subject matter expert is a professional who's cultivated a deep well of knowledge. They may be knowledgeable about a niche topic, a skill, a process, or a particular set of technologies, machinery, or materials."
As part of your content research, you can find and follow influential people, interview subject experts, or reach out to social media influencers in your industry.
Following influential people can provide you with timely news, quotes, and more.
Interviewing subject matter experts is a great way to create content like videos, podcasts, and blog transcripts. Before interviewing a subject matter expert, make sure you've prepared your interview questions.
Social media influencers can ask your target audience questions about specific pain points and frustrations that your content can then address.
You can find subject experts and social media influencers on websites, social media platforms, forums, networking events, and many other places.
Let's explore some of these places…
LinkedIn
LinkedIn is an excellent resource for finding subject matter experts and doing content research.
For example, LinkedIn lets you explore trending topics, news, and popular questions in your industry or niche.
Use LinkedIn's content suggestions feature to research and discover new content ideas from areas like Trending Articles (shows suggested content based on current trends across LinkedIn), and Company News (shows content suggestions based on your organization's mentions in the news).
More info: LinkedIn
Twitter
Twitter is another great place to find and follow influential people and reach out to SMEs.
To get the most out of Twitter as a content research tool, make sure to read Twitter's Getting Started Guide.
More info: Twitter
Hashtagify
Hashtagify is an advanced Twitter hashtag tracking tool that lets you find hashtags to enhance your social media strategy through hashtag marketing, reach your audience, get custom suggestions, and analyze influencers' and competitors' strategies.
You can search real-time data and gain insights about Twitter hashtags (popularity ranking, related hashtags, trends, etc.), track hashtags, follow and analyze Twitter users and trending hashtags, monitor relevant content, and find influencers.
The tool also provides data in easy-to-read dashboards and charts, so you can audit performance, monitor aggregated analytics, and build custom reports.
Visit the site: Hashtagify
Twitter Polls
Twitter Polls is a feature of Twitter that lets you create polls to research opinions and gain insights from other Twitter users.
You can use Twitter polls to get customer feedback about upcoming events, new content, new product launches, rebranding, new releases, etc., curate industry-relevant discussions, and test how your audience feels about a certain topic before creating your content.
More info: Twitter Polls
Forums
Forums are a great place to research information, especially if you are creating content designed to solve problems or looking for ideas to develop new products or services.
Often, you can find answers on forums that you cannot find by searching on Google. Forums allow you to engage with people, so if you type in your topic and find that an answer doesn't exist, you can always ask the question.
Here are some popular forums and forum-like sites:
Quora
Quora is a question-and-answer social media and research website where users answer each other's questions about all kinds of topics.
Quora has over 300 million monthly active users and over 400,000 topics to explore, so it's a great site to research topics and questions people are asking and use the information to develop new content ideas relevant to your industry.
More info: Quora
Reddit
Reddit is another commonly used platform where you can find answers that will help you with your content research.
Reddit is a social networking site where over 300 million monthly active users (known as Redditors) share, interact with, and consume the latest news and trending topics. If you are unfamiliar with using the platform, see this Beginner's Guide To Using Reddit before engaging with the community.
More info: Reddit
Stack Overflow
Stack Overflow is a question-and-answer website for professional and enthusiast programmers.
It's the leading community for developers and a great place to research content related to programming, web development, and emerging technologies.
More info: Stack Overflow

In addition to the above, you can join various social media groups and participate in communities of like-minded people across many different social media platforms, including Facebook, Instagram, WhatsApp, etc.
Content Idea Generation Tools
Below are some tools you can use to help you generate new ideas for content.
Infinite Content Creation Course
We provide a comprehensive 120-lesson FREE content creation email course right here on ContentManagementCourse.com, so make sure to sign up below to learn how to never run out of content ideas for your blog, website, or newsletter:
Keyword Magic Tool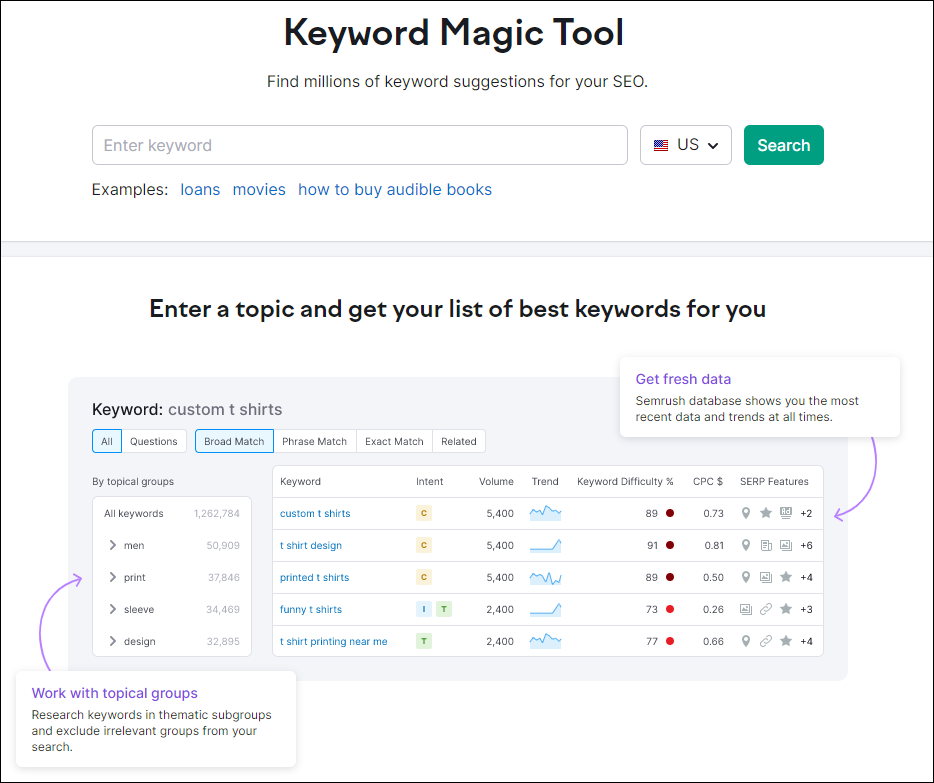 Keyword Magic Tool lets you find and explore millions of keywords for content ideas and SEO.
Note: You will need to set up an account with SemRush to use this tool.
Simply enter a target keyword related to your product or service into the tool and the Keyword Magic Tool will return a list of related keywords and metrics like average search volume, keyword difficulty, and additional features included on the SERP page for your keyword.
For example, suppose you are looking for content ideas to write about air fryers.
Go to Keyword Magic Tool and search for the phrase "air fryer" …
Next, select the "Questions" option in the toolbar to filter the results to questions, and you'll see a list of the most frequently searched question-based results related to your search that contain your seed keyword.
In the above example, "how to clean air fryer" is searched 9,900 times per month. This indicates that users searching for this phrase may have a problem cleaning their air fryers or are beginning their buyer's journey into buying one and are looking for help or solutions.
You could use this information to educate or engage your audience and provide them with advice or a solution. For example, you can create a guide on air fryer maintenance, or an article or video on cleaning air fryers and promote air fryer cleaning equipment or products, etc.
More info: Keyword Magic Tool
AnswerThePublic
AnswerThePublic.com is a free tool that you can use to research new topic ideas for content marketing, SEO, etc.
Simply enter 1-2 words to describe a topic, band, or product, and click on the Search button.
The tool then explores autocomplete data from search engines like Google and returns 'mindmap'-like visualization charts with useful search phrases related to questions people are asking around your keyword (e.g. where, what, how, why, etc.), searches based on your keyword+prepositions (e.g. near, for, with, to, etc.), and even comparisons (great for creating review articles).
The tool also provides a downloadable list of results segmented alphabetically.
Use this tool to generate and brainstorm useful new content topic ideas, and even to help you develop new products and services based on what consumers are searching for.
More info: AnswerThePublic.com
For more tools to help generate ideas and topics for your content, go here: Content Idea Generation Tools.
Organizing Your Content Research
Having a huge library of content research tools and resources at your disposal is great, provided you can access these quickly and efficiently.
Here are some tools and resources that will help you save time accessing your content research tools.
Web Browser – Bookmarks
You can speed up your content research simply by organizing and storing access to the URLs of the sites, platforms, services, and tools you regularly use in your web browser's bookmarks…

We recommend planning your bookmarking folders first so that when you come across content you want to save to research later, you have an organized way to retrieve it.
Additionally, you can edit the bookmark name to suit your own needs.
See these guides to using bookmarks in different web browsers and devices:
We cover using bookmarks in more detail in this section.
Content Organization Tools
You can also use content organization tools or apps to build up a collection of research notes, copy and paste snippets, ideas for blog posts or web pages, etc.
One Note
Microsoft OneNote is a digital notebook that lets you store and organize all of your notes into sections and pages and share these across all of your devices.
You can also highlight important and "to-do" notes, draw and annotate your notes using a stylus or your finger, record audio notes, insert online videos, add files, save content with one click, and share notebooks with your coworkers.
Simplenote
Simplenote is a free cross-platform note-taking tool that lets you organize your thoughts and content ideas, add tags to find notes quickly with instant searching, share to-do lists, post instructions, and publish your notes online.
Your notes automatically stay updated across all your devices,  in real-time, and get backed up with every change you make.
MyInfo
MyInfo is another tool you can use to collect, store, and organize your content ideas, research notes, lists, links, to-dos, etc.
The tool lets you collect and organize information in a number of ways, including assigning tags and attributes, using entry forms or typing free text, creating notes from templates or from scratch, and using search filters.
Text Editors
Built-in Plain Text Editor
Your computer's built-in plain text editor like Notepad (Windows) or TextEdit (Apple) is a great tool to jot down and save your content ideas, rough notes, snippets, swipe files, research, quotes, link or image URLs, write an outline of topics, and organize your content research.
It also lets you quickly create content drafts without distractions (like formatting or styling text) so you can focus entirely on what you want to say and get your ideas or points across.
NoteTab – Text And HTML Editor
While using a plain text editor is great, sometimes you may want to have multiple text files open while you work.
For example, let's say that you are editing multiple articles or snippets of content on multiple text files and decide that you need to perform a search and replace operation across some or all of these files.
Being able to do one search and replace across all files would be a huge time saver. With your computer's built-in plain text editor software, however, you can't do this unless you merge the content of all your files together.
NoteTab is a powerful text and HTML editor tool that lets you edit multiple text files simultaneously, strip HTML from code, and a whole lot more. You can even use it to perform search and replace operations across multiple text files at once.
It's a great content editing tool that will improve your productivity and help speed things up, especially when working with text or HTML snippets.
NoteTab Features
NoteTab is available in three versions:  NoteTab Pro, NoteTab Standard, and the freeware NoteTab Light.
We recommend downloading and using the PRO version.
 NoteTab Pro offers great features like:
Multiple-level undo/redo
Fast and flexible search & replace tools
Easy-to-use wildcards for searching (like * and ?)
An integrated two-pane outliner
Real-time word count (NoteTab or Microsoft Word method)
Text statistics for SEO (HTML code automatically ignored)
Support for HTML5 and CSS3
Support for Twitter's Bootstrap toolkit
Syntax highlighting for HTML, XML, and CSS files
A multilingual spell checker and thesaurus
Customizable menu shortcuts and toolbars
The table of features below shows the differences between the three versions.
If you need to get more done in less time, NoteTab is fast, handy, reliable, and packed with time-saving productivity tools not found in other text editors.
More Info: NoteTab Pro

To learn how to copy and paste text from images into a text editor, see the Content Management Tips & Tricks section.
Swipe File Folders
Electronic folders are great tools for keeping your content research files organized.
By creating a hierarchy of nested folders mirroring your content structure, you can build an effective archive for your content research notes and files. This also lets you quickly locate archived files in the future should you ever need to retrieve these later.
Additional Content Research Tools
Content Idea Generation Tools – Resources for generating new content ideas.
Curata – Curata's content curation software scours the web using keywords, news sources, authors, bookmarked or shared content, etc., and returns relevant published content that you can then curate, add your own summary and brand voice to, embed royalty-free imagery, schedule, and share.
Additional Sites For Content Research
The sites below provide additional useful resources for your content research.
Statistics & Data
Visit sites like the ones listed below for statistical data and information to validate your articles when getting your point across and adding credibility to your content:
Idea Sharing Sites
These sites attract subject experts and independent authors willing to share their ideas on a wide range of topics:
Video Courses For Beginners – Content Research
The video courses below cover basic areas of content research and are ideal for beginners (note: you can access all of the video courses below with a single all-access pass):
Learn how to do keyword research using tools like Google's Keyword Planner.
More info: Keyword Research Tools
Learn how to use Google Tools like Google Analytics & Gmail.
More info: Google Tools
Password Managers provide an easy and secure way to keep track of all your passwords. This video course shows you how to use powerful and FREE password management tools.
More info: Using Password Managers
***
For more video courses, see this section: Digital Business Video Courses
Summary
The World Wide Web is a huge library of content research. All you need are the right tools to perform your research effectively. This section provides a list of time-saving content research tools and resources.
Action Steps
Use the content research tools, sites, and resources listed on this page to save time researching content ideas and to help you and your team with your content planning and content production.
Resources
References
***
Return To The Main Tools And Resources Section
Images: Laptop
***