Content Editing Tools And Resources
These useful content editing tools and resources will help you save time and keep the quality of all edited content consistent and error-free.
Depending on the kind of content you publish, you may need to edit your content regularly to keep the information relevant and up-to-date.
The tools and resources in this section will save you time editing content and hopefully provide your team with content editing guidelines to help maintain consistency and quality in all published content.
***
Spell Checking And Grammar
Whether your team is publishing articles and blog posts or creating digital information products like ebooks, reports, or any other kind of written documentation, it's important to make sure that your content is free of grammatical errors and misspellings.
Here are some tools that can help to improve your content:
Grammarly
Grammarly is a FREE grammar checking tool that helps to improve your content writing by correcting grammar, punctuation, and spelling mistakes while also catching contextual errors, improving your vocabulary, and suggesting style improvements.
Grammarly analyzes your work, spell-checks it, and offers suggestions on how to improve sentence structure.
The software's online grammar-checking algorithms have been developed and are regularly maintained by linguistic technology experts.
You can use this software to check your articles, blog posts, reports, e-books, or any kind of written documentation.
How To Use Grammarly
You can install Grammarly on your web browser, on a word-processing application like Microsoft Word, or on your desktop.
Once installed, the tool lets you check your content anywhere online, including Gmail, Facebook, Twitter, LinkedIn, and WordPress.
If you are writing a post, for example, you can run your post or article through Grammarly before publishing to make sure that your content has no errors.
If you don't see the symbols when checking your content, make sure that you have enabled Grammarly for your site.
Note: To use some of the software's features you need to make sure that you're logged into your account.
If you can see your Grammarly dashboard, you're logged in.
To check your content for errors inside applications like Microsoft Word, make sure that the tool is enabled.
Grammarly will begin scanning your document for errors. Depending on the size of your document, allow a few minutes for the scan to complete.
After the scan is complete, the tool's menu bar will display the number and types of errors found in your document.
A screen opens up next to your content where you can view the critical errors and advanced issues the tool has found after scanning your content.
To view and correct issues, click on the error counter and Grammarly will scroll through your content until it finds an issue. You can fix critical issues with the free version of the tool (repairing advanced issues requires upgrading to the premium version).
Grammarly not only catches all of your spelling and grammatical errors, it will also point out errors in your punctuation (e.g. wrong use of commas, double spacing between words, duplicated words, etc.).
Grammarly scans your text for common and complex grammatical mistakes, spanning everything from subject-verb agreement to article use to modifier placement, missing articles, weak adjectives, repeated words, etc.
Work through your content to fix all mistakes in your sentence structure and style.

As you scroll through each error, Grammarly shows you what's wrong and gives you the option to automatically fix errors with just one click.
To correct mistakes, just click on the suggestion.
You can also ignore the suggestions and keep scrolling through to the next item or scroll back to view previous items.
The premium version of Grammarly takes your content checking to a whole new level, allowing you to repair advanced content issues, view suggested vocabulary enhancements, detect instances of plagiarism, etc.
As you can see, Grammarly is a powerful and essential tool for content writing.
Once you begin using it to improve your content, you will not want to publish articles or blog posts again without first scanning for grammatical, spelling, or punctuation errors.
More info: Grammarly – Free Grammar Checker
ProWritingAid
ProWritingAid is an AI-powered writing assistant software that provides more than just grammar checking, helping writers to identify and improve style issues such as repetitiveness, sentence length and variation, readability, overused words, redundancies, and transitions.
With over 20 different writing reports and 3,000 explanations and videos written by experts, ProWritingAid offers easy-to-follow suggestions and advice to help you improve your writing like a pro.
The software delivers thousands of grammar and style improvements in real-time as you write, with a team of copy editors hand-coding thousands of rules to cover the most vital style improvements.
In-app suggestions, explanations, videos, and quizzes help you build your writing skills while you edit, and the Word Explorer and contextual thesaurus helps you find the perfect words.
ProWritingAid easily integrates with popular writing platforms such as MS Word/Outlook, Google Docs, Scrivener, Open Office, and Final Draft, and even offers browser extensions for Chrome, Firefox, Edge, and Safari to check writing on almost every website.
Whether you're an individual writer or an organization, ProWritingAid gives you and your team the ability to customize the software to your specific needs and create style guides and dictionaries, ensuring consistency across your writing and editing.
More info: ProWritingAid
Hemingway Editor
Hemingway Editor is a free tool that checks your writing for technical errors and readability. It is designed to be like a spellchecking tool, but for style. It helps make your writing bold and clear to make sure that your readers focus on your message, not your prose.
The Hemingway Editor highlights in yellow and red where your writing is too dense. Use the tool's recommendations to remove needless words or split a sentence into two.
The software's features help you to:
Improve your content's readability
Write first drafts free from distractions
Strengthen your writing with powerful and more vivid-sounding verbs instead of using weak adverb constructs (e.g. instead of saying that someone is "walking slowly" you can say that they "tip-toed" or they "crept.")
Eliminate complicated words and replace these with simpler words (e.g. replace words like "utilize" with "use")
Change sentences from passive to active voice,
Format your content with text-formatting tools (e.g. bold, italicize, bulletize, numberize, turn highlighted text into links, change paragraphs into different heading sizes, etc.)
The desktop version of Hemingway gives you access to updates whenever a new version is released.
More info: Hemingway Editor
Content Style And Formatting
You don't need to reinvent the wheel and create your own content styles and formatting guides from scratch. You can simply adopt an existing style or format as your own.
Style Guides
Wikipedia Manual of Style (MoS)
Wikipedia uses this style manual for all of its English articles.
If you are looking for a style guide, this is a very useful resource and covers everything from article titles, sections, and headings, to capitalization, formatting content, grammar, and usage, etc.
More info: Wikipedia Manual of Style
The Associated Press Stylebook
This is another excellent style guide used as a writing and editing reference in newsrooms, classrooms, and corporate offices worldwide.
Its specialized chapters cover guidance for writing about people with disabilities, sports, business, data journalism, digital security, health and science, news values, polls and surveys, inclusive storytelling, religion, social media, and more.
More info: The Associated Press Stylebook
Chicago Manual Of Style
The Chicago Manual Of Style (CMOS) has evolved over more than one hundred years from a style sheet created by the University of Chicago Press to a pamphlet circulated throughout the University, to a book containing a compilation of typographical rules, to its modern version… an authoritative reference work for authors, editors, proofreaders, indexers, copywriters, designers, and publishers, with more than a thousand pages in print and more than two thousand hyperlinked paragraphs online.
The CMOS is regarded by many as the industry leader in style matters and provides up-to-date recommendations for the digital age on electronic workflow and best practices in electronic manuscript preparation and editing.
More info: The Chicago Manual Of Style
Yahoo! Style Guide
The Yahoo! Style Guide is a style guide focused on writing content for the web.
This is a useful guide for freelance and content writers and includes useful advice on optimizing your content for search engines.
More info: The Yahoo! Style Guide
Formatting Tools
Here are some useful tools that can help take the guesswork out of formatting your content:
TitleCase.com
TitleCase is a free online tool that lets you convert post and article titles into different cases.
You can select a case from the Convertors menu…
Or simply type or paste in your post title and click on the Convert button.
TitleCase converts your title into different cases and displays the results. Browse through the different options and copy and paste them into your content.
More info: TitleCase
Word Counters
Knowing the word count of your content can be important. For example, you may need to create a piece of content (e.g. an article, essay, whitepaper, eBook, etc.) with a minimum or a maximum number of words.
There are many online word counters you can use to get statistics about your content like the number of words, number of characters, check grammar, etc.
Here's a great tool you can use to get text statistics:
WordCounter
WordCounter is an online editor that can do more than just counting words and characters. It can help you to improve word choice and writing style, and, optionally, help you to detect grammar mistakes and plagiarism.
To check word count, place your cursor into the text box above and start typing. The tool will display the number of characters and words and increase or decrease these as you type, delete, and edit them.
You can also copy and paste text from another program into the online editor. The Auto-Save feature makes sure you won't lose any changes while editing, even if you leave the site and come back later.
WordCounter helps to ensure that your word count reaches a specific requirement or stays within a certain limit.
In addition, WordCounter shows you the top 10 keywords and keyword density of the article you're writing. This lets you know which keywords you use, how often, and in which percentages, preventing you from overusing certain words or word combinations and checking for the best distribution of keywords in your writing.
The "Details Overview" lets you see the average speaking and reading time for your text, while "Reading Level" is an indicator of the education level that your readers would need to understand the words in your content.
More info: WordCounter
Google Docs
Google Docs is a great tool for editing content collaboratively.
With Google Docs, you can share your drafts with other team members and have them edit the content directly or add suggestions that you can then accept or reject.
Additionally, Google Docs provides tools that let you see your content's word count and the number of characters.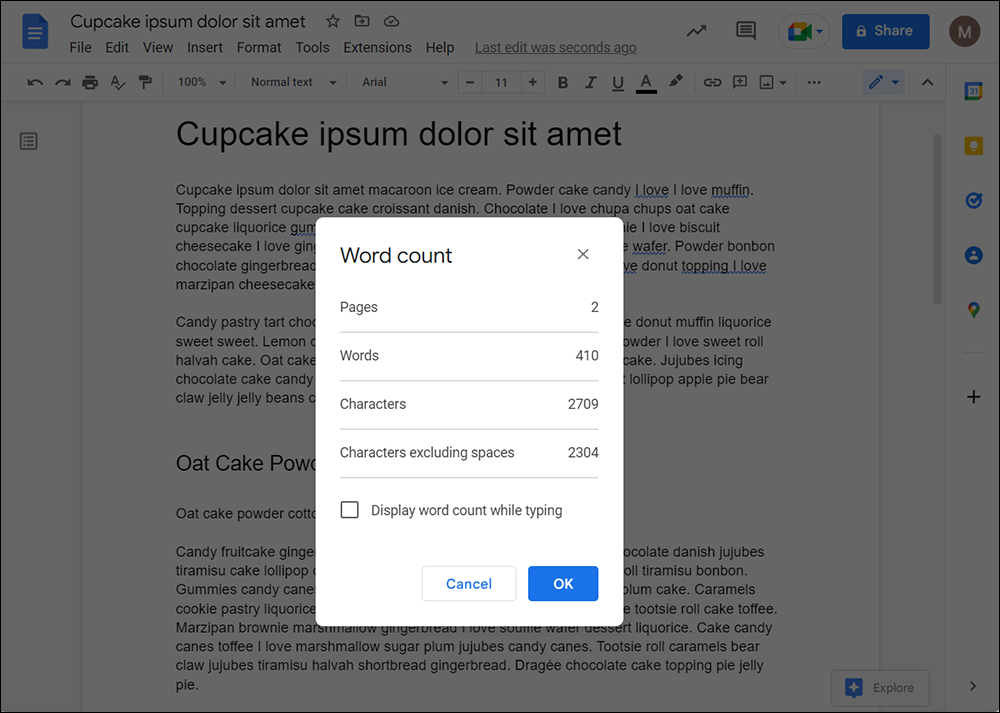 More info: Google Docs
Media Conversion Tools
For tools that let you convert content into different media formats (e.g. videos into GIFs), see this section: Media Editing Tools
Video Courses For Beginners – Content Editing
The video courses below cover basic areas of content editing and are ideal for beginners (note: you can access all of the video courses below with a single all-access pass):
In this practical step-by-step video course, you will learn how to use text-to-speech and the latest AI voice technologies to create professional and realistic-sounding voice narrations from text files for a wide range of commercial uses and business applications.
More info: Text-To-Speech
Learn how to use the WordPress Gutenberg editor with this video course.
More info: WordPress Gutenberg
CSS (Cascading Style Sheets) allows you to control how web pages and page elements display on your screen. This video course shows you how to use CSS.
More info: How To Use CSS
***
For more video courses, see this section: Digital Business Video Courses
Summary
Editing content can be time-consuming. The right tools and resources can help your team save time editing content and ensure that the quality of all published content remains consistent and error-free.
Action Steps
Help your team become familiar with these content editing tools and resources and make sure to implement standard guidelines for consistency in your content documentation.
Resources
Avoiding Widows and Orphans – 'Widows' and 'orphans' are terms used to describe unwanted stray words in typography. This tutorial explains ways to fix and deal with these issues.
Keyboard Shortcuts – See this section for ALT code keyboard shortcuts for adding international characters and symbols to content.
Content Troubleshooting Guide – Use this guide to troubleshoot content-related issues.
Digital Business Video Courses – V

ideo courses to help you develop the digital skills you need to manage content effectively.

WordPress User Manual – A detailed and comprehensive step-by-step WordPress user manual for non-technical website users.
References
***
Return To The Main Tools And Resources Section
Image: Woman with Macbook
***