Video Tools
Create and edit product, sales, promotional, and training videos with these video tools and resources.
This section covers media creation tools referred to in various lessons throughout this course.
Use the tools and resources on this page to create and edit media like:
Screencast videos
Product videos
Explainer videos
Sales videos
Promotional videos
'How-to' training & tutorial videos
And more
***
Video Creation Tools
Use the tools and resources below to create videos to suit a wide range of purposes.
Screen Recordings
Screen recordings are great for video tutorials and video-based training content. Use the video tools below to create screen recordings.
Camtasia
Camtasia is the leading screen capture video recording and editing software tool on the market.
You can create professional screen capture videos, record on-screen activity, customize and edit content, add interactive elements, import media, and create high-quality videos in a range of formats and sizes.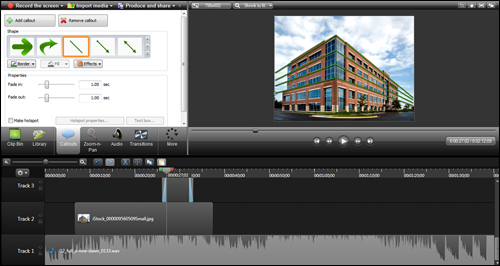 More info: Camtasia Studio
AI Video Creation
AI video creation tools provide a time-saving, cost-efficient, and affordable alternative to traditional video creation.
Use the AI video tools below to create your marketing videos inexpensively:
Synthesia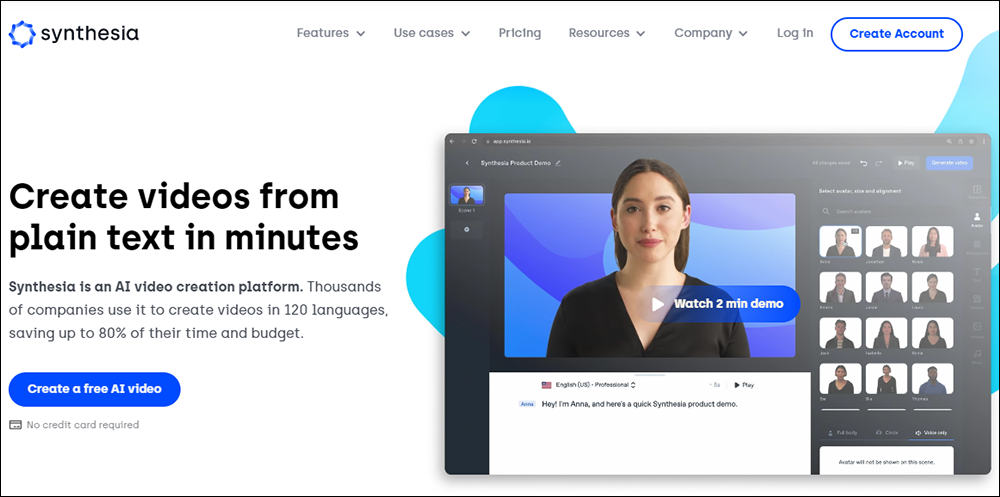 Synthesia is an AI video creation platform that allows you to easily create professional videos in 120 languages without requiring any video editing experience.
This web-based platform is affordable and intuitive, making it easy to turn plain text into engaging training, how-to, or product marketing videos.
With Synthesia, you can save up to 80% of your time and budget when creating videos. You can localize your videos for a global audience by choosing from over 120 languages and accents. The app is accessible in your browser and it's an affordable option suitable for beginners.
Synthesia offers a time and cost-efficient alternative to complex and expensive traditional video creation processes that allows you to create professional videos 10 times faster than ever before, without any prior knowledge of video editing.
With Synthesia, you can use digital twins of real actors known as Synthesia AI avatars to get professional actors without studio time. You can also turn text into professional voiceovers without the need for a microphone, thanks to Synthesia's digital clones of real voices, known as Synthesia AI voices.
The video below provides an example of Synthesia's AI technology in action:
Creating and updating videos is quick and easy with Synthesia. You can edit or update your video at any time, without needing any prior video editing skills. You also have access to over 60 fully customizable video templates, a built-in screen recorder and media library, and closed captions are included.
With over 100 diverse AI avatars to choose from, you can get an exclusive AI avatar for your brand or create your own custom AI avatar. Synthesia ensures consistent audio quality at scale and offers a range of features, including PowerPoint to Video, Text to Video, AI Video Generator, and Online Video Maker. Over 40,000 training, support, and marketing teams trust Synthesia for their video creation needs.
With Synthesia, you can easily create professional videos from plain text in just minutes. You can edit or update your video at any time and localize it in over 120 languages and accents. Synthesia is 10x faster than traditional video creation processes, and you don't need any prior knowledge of video editing. Share, embed, or download your video as an MP4 with this powerful AI video generator.
More info: Synthesia
Promotional Videos
Use the tools below to create professional animated marketing videos, cartoon videos, and "whiteboard" hand-drawn sketch videos.
Toonly
Toonly is a simple, inexpensive, and powerful drag-and-drop explainer video creation software tool that lets you create professional cartoon explainer videos quickly and easily without requiring video creation skills, animators, illustrators, etc.
Toonly was developed by the creators of Doodly, another powerful video creation tool that lets you create doodle videos.
Toonly is available for PC and Mac users. After installing and launching the software, simply login…
And you will come to the main dashboard ('My Videos') section, where you can create a new video or edit an existing video…
Toonly has an intuitive interface. You don't have to be a video designer to start creating videos, as the software provides a growing library of built-in scenes, backgrounds, animated characters, text, objects (including the ability to upload your own images), royalty-free music backgrounds, and more. You can also add voiceovers directly into your videos…
To create your video storyline, just drag and drop text or images (called objects) into a 'scene', adjust timelines, specify settings for your objects, preview and save, then create the next scene…
Toonly provides many different scenes, scene transitions, characters, props, objects, etc. to build your video storylines. All characters are custom drawn by the software's own graphic design team, and you can import your own images into the program to add to your videos.
Animated characters come with dropdown menus allowing you to select the activity you want them to engage in during your scene. You can even make characters engage in multiple actions within a scene (for example, they can walk into a room, shake hands with another person, talk on a cellphone, then sit down and start working on their laptop, while other characters and objects are also performing their own actions…
Toonly also provides keyboard shortcuts to help make creating and editing videos faster…
Toonly is well supported. As a user, you get access to video tutorials where you can learn how to use all the features of the software, a Facebook group where you can post questions and engage in discussions with other users, FAQ and customer support sections, a feature request page, and more…
The software is also regularly updated with new features and new elements…
Toonly is an ideal and inexpensive video creation tool that can be used in any niche, industry, or profession. It suits users such as:
Small Business Owners & Service Providers
E-Commerce Store Owners & Digital Marketers
Information Technology Companies
Human Resources Departments
Trainers & Presenters
B2b Sales
Non-Profits
Etc.
Here is a cartoon explainer video we created from scratch using Toonly in just a few hours…
WPMasterclasses.com Promo Video
If you are looking for a powerful and inexpensive video creation tool that lets you create professional-quality engaging animated cartoon explainer videos quickly and easily without requiring any video design skills, then consider using Toonly.
Visit the site for more information about the software, pricing, FAQs, etc.:  Toonly – Cartoon Explainer Video Creation Software
Explaindio
Explaindio is an all-in-one video editor that lets you easily create HD videos with animation, hand-drawn whiteboard (doodle-sketch) videos, combine text overlays, animated slides, images with videos, and more.
Explaindio includes features like:
Simultaneous multiple animations
Full multi-timeline editing
Full 3D animations
Import external 3D elements
3D models and animation customization
180+ pre-made text animation elements
140+ pre-made videos, images, and doodle objects animations
Keyframe animation
And more.
The demo video below shows what you can do with Explaindio …
Visit the Explaindio website
If you are looking for a powerful video creation software tool that can help you create 2D & 3D animated marketing, explainer, and training videos, doodle sketch videos, and motion videos, then Explaindio is a tool that can do this for you in minutes.
More info: Explaindio Video Creator
Viddyoze
Viddyoze lets you easily create stunning live-action video intros and logo stings with no video editing or production skills, and eye-catching professionally branded video intros and logo stings that command attention.
The video demo below shows the software in action.
Viddyoze video animation showreel
Viddyoze Live Action's video animation engine uses groundbreaking point-and-click automated technology that combines high-quality live video action effects, professional actors and models, and custom 3D digital animation to create beautifully branded eye-catching videos.
No video production experience is needed to use this tool.  Just choose your live-action template, upload your logo and customize text and colors, and click a button to create an HD-quality video. Your video will be fully rendered and ready to use in minutes.
The video below provides a tour of Viddyoze's video creation process.
Viddyoze video creation demo
Viddyoze Features
Watermarks: Add watermarks to videos that only you can remove.
Audio: Every Viddyoze Live Action template includes a custom-created audio track to match the video footage.
Cloud Service: Viddyoze Live Action is entirely cloud-based, so there is no software to download and no video animation equipment to purchase. You can create your videos anywhere using your smartphone.
Designer Template Library: Viddyoze includes dozens of professional video templates suitable for a wide variety of niches and office-based businesses, like restaurants, coffee shops, gyms, beauty salons, tech firms, creative and professional services, etc.
Full Training: The member's area includes full training, including user-friendly set-up videos showing you how to get the most from the system.
Easy Customization: Choose the color palette to match your logo and add text to your videos. The software will do the rest.
100% compatibility: Viddyoze Live Action renders all videos in MP4 format, allowing you to use these with other video editors and web platforms.
Support: Viddyoze provides access to a dedicated support team 24/7 and is supported by a full-time team of designers, videographers, and developers.
Unlimited usage rights: Use the animations as many times in as many videos as you like.
Licensing options: Viddyoze offers personal and commercial licensing. Choose the commercial license if you want to create videos for other businesses.
If you're looking for a way to create video intros that will help your business stand out from the crowd, grow more sales and get more clients, then definitely check out Viddyoze's live-action video intro-maker.
More info: Viddyoze
Doodly
Doodly is a simple and user-friendly drag-and-drop doodle video creator that lets you create both whiteboard and blackboard videos with ease.
Check out the Doodly video demo below:
Visit the Doodly website
You can use hundreds of built-in characters, props, images, fonts, and sounds, or upload your own images, fonts, and sounds, then export and share your videos in multiple formats and quality levels.
More info: Doodly
Klippyo
Klippyo is a time-saving cloud-based video creation tool that lets you create highly engaging videos optimized for social media marketing.
With Klippyo, you can edit videos directly from your phone and create amazing video content without relying on video templates.
Klippyo was developed by the same team that created the Viddyoze live-action video animation tool, which lets you create animations such as logo stingers, video intros, and outros with the click of a mouse, in consultation with Derral Eves, a successful video producer and YouTuber with over half a million subscribers and clients including Red Bull, Google, Amazon, and Adobe and whose advice has helped thousands of fans build successful YouTube channels that attract millions of views.
Viddyoze is an ideal complement to Klippyo. Both integrate seamlessly, so you can add visually stunning video animations directly into your Klippyo projects.
Check out Klippyo's video promo below to see just some of its amazing features …
Visit the Klippyo website
This software includes all the features you need to create videos that will deliver you more engagement, better conversions, and more channel subscribers, as well as commercial rights to all the videos you create using Klippyo's Studio version.
With Klippyo, you can easily shoot, edit, and post engaging, exciting, and dynamic videos directly from your phone in formats that are correctly optimized for social media, such as:
Square videos
Social video memes
Emojis and Stickers
Intros and Outros
Captions
Quotes
Filters
And more!
Klippyo offers a professional video editing suite with direct social media integration and a huge library of video objects and elements like stock video clips that lets you create classic videos, square videos, vertical videos, captioned videos, meme videos, compilation videos, banner ad videos, and videos with multiple aspect ratios from a single app, without the need to record a single frame of footage.
Social media and video marketing research show that videos that use features like the ones built into Klippyo can increase viewer engagement by 100% or more, reduce video ad costs by 35%, and get viewers watching your video all the way to the end.
Klippyo is 100% web-based, so you can log in from anywhere, work from your mobile device, tablet, Mac or Windows laptop, or PC, shoot your video with your camera, upload your footage or import a pre-existing video into the Klippyo editor, then easily add professional intros, outros, filters, emojis, and interactive captions to your videos, as well as audio tracks and visual elements from its vast built-in library (300,000 stock video clips), and publish your finished video to multiple social media accounts like YouTube, Facebook, Instagram, etc. right from inside the app.
Klippyo offers a 30-day risk-free, full money-back guarantee, and 24/7 customer support.
More info: Klippyo
Moovly
Moovly is a that lets you create your own videos ads, product videos, marketing videos, explainer videos, and company videos in-house without a big budget or design skills.
Moovly provides many customizable video templates where you can adjust anything you want to match your company brand style, including text, colors, images, footage, and music… even create your own templates!
You can also easily automate the production of videos using Moovly's automated video technology to offer your team or customers customizable video templates, create personalized videos and product videos generated automatically from your CRM, email client, or marketing automation tool, and connect to RSS feeds and news streams like Twitter to create videos when new tweets are sent.
More info: Moovly
Vyond
Vyond is a video creation software tool that lets you create engaging videos with characters to fit any context, customizable templates, and whiteboard animations.
You can also create MP4s or animated GIFs for social media, host your videos wherever you like, or import them into other platforms.
Here is an example of a video created using Vyond:
More info: Vyond
Animoto
Animoto is a free drag-and-drop video maker that lets you easily create promo videos, slideshow videos, social media videos, tutorial videos…even birthday, graduation, and wedding videos with no design skills required.
Animoto provides a huge library of time-saving templates, stock images and videos, music, fonts, video editing and voice-over tools, and more.
The free plan lets you use all of the tool's standard features to create unlimited videos, while paid plans allow you to create videos without Animoto's branding, access millions of stock images and videos, and more!
More info: Animoto
Lumen5
Lumen5 is a video content creation tool that combines powerful artificial intelligence (A.I.) with a simple drag-and-drop interface to help you create professional video content in minutes. It offers customizable templates to help you communicate effectively and consistently, while also staying on brand, on budget, and on time.
One of the standout features of Lumen5 is its ability to turn written content, such as blog posts or whitepapers, into videos using A.I. and machine learning. Simply enter a link to your blog post, and Lumen5 will automatically fetch content from the link and begin transforming it into a video. The A.I. will summarize the content and match each scene with relevant stock footage, while also algorithmically determining the timing of each scene based on average reading speed.
Once the video has been generated, you can access a variety of tools to make your own edits and enhance the video with your finishing touch. You can switch up colors, add watermarks, or reformat into different aspect ratios in seconds. Lumen5 also offers features for adding talking head content, callouts, cutaways, and captions to enhance the video further.
The transcript-based editing feature of Lumen5 makes it easy for anyone to create amazing content in minutes. Simply select words in the transcript and match visuals directly to the timing of the audio.
With Lumen5, you can create professional video content without the need for expensive equipment, technical knowledge, or time-consuming editing.
More info: Lumen5
Motion Objects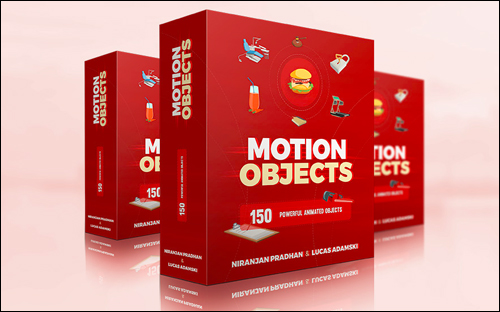 One of the challenges of promoting your business using video marketing is that your videos have to engage viewers and stand out from the crowd of 'me too' video graphics and templates.
Adding engaging animated objects to videos can help boost your conversions.
Motion Objects saves you time and money hiring a high-end professional video production team or graphic designers to create custom video graphics.
The copy and paste animated objects are designed to work with all video creation tools, including:
The videos below show you how easy it is to add animated objects from Motion Objects to your sales videos.
Here is a quick demo video showing you how to add animated objects in EasySketchPro…
Adding animated objects to EasySketchPro
Here is a quick demo video showing you how to add animated objects in Explaindio…
Adding animated objects to Explaindio
The entire collection includes over 100 animated objects grouped into the following modules:
Module 1: Online Business – Animated Objects
Module 2: Online Business – Static Objects
Module 3: Offline Business – Animated Objects
Module 4: Offline Business – Static Objects
Module 5: Health & Fitness – Animated Objects
Module 6: Health & Fitness – Static Objects
Module 7: Relationships – Animated Objects
Module 8: Relationships – Static Objects
Module 9: Home & Kitchen – Animated Objects
Module 10: Home & Kitchen – Static Objects
Module 11: General – Animated Objects
Module 12: General – Static Objects
(Motion Objects animated video objects sample)
All objects work on Mac and Windows environments and come in 4 different formats: 3 animated (MOV, SWF, GIF), plus 1 static PNG. These graphics can be used anywhere, even uploaded straight to WordPress and inserted directly into your pages and posts. Video training is also provided on how to edit the templates.
The graphics collection comes with personal rights, allowing you to use these images in all of your own video projects. A developer's license is also available if you plan to use the images in client videos.
More info: Motion Objects
WordPress Video Tools
If your site runs on WordPress, see this section for video-related plugins: WordPress Media Plugins.
Additionally, see the resources below for a step-by-step tutorial on how to add videos to WordPress and more WordPress video plugins:
Video Courses For Beginners – Media
The video courses below are ideal for beginners (note: you can access all of the video courses below with a single all-access pass):
Learn useful strategies and practical methods that will help you improve your sales and conversions using video marketing.
More info: Video Marketing
Learn how to drive more traffic to your site and more customers to your business by getting your videos to rank higher on YouTube and on Google's search results.
More info: YouTube Marketing
For more video courses, see this section: Digital Business Video Courses
***
See the sections below for additional video-related tools and resources:
Return To The Main Tools And Resources Section
Image: Video Software