Video Marketing
Learn about using videos and video marketing effectively as part of your content marketing strategy.
Research from leading online sources shows that people are watching more videos online than ever before.
According to sites like Wyzowl and Statista, for example, around 500 hours of new videos are uploaded to YouTube every minute, and more than 1 billion videos get viewed each day on TikTok.
It's no wonder, then, that videos are an important part of marketing a business online effectively.
In this lesson, we provide a brief overview of video marketing and the challenges of managing your video content as part of your video marketing strategy.
We'll look at:
What Is Video Marketing?
Your Video Marketing Strategy
Different Types Of Videos You Can Create
Managing Your Video Content Effectively
***
What Is Video Marketing?
"Video marketing is using videos to promote and market your product or service, increase engagement on your digital and social channels, educate your consumers and customers, and reach your audience with a new medium."
Source: HubSpot
More businesses are turning to video marketing and investing in the creation and distribution of video content to promote and market their services online.
And there is a good reason for this. According to Wyzowl, customers overwhelmingly prefer watching short videos to learn more about a product or service and buy physical and digital goods than reading text-based articles or blog posts, viewing infographics, downloading ebooks or manuals, attending webinars, receiving sales calls or trialing demos.
Also, the same research shows that people watch on average 2.5 hours of online videos and are twice as likely to share video content than any other type of content, including social media posts, blog posts, articles, or product pages.
In short, videos can be a powerful and effective way to:
Increase traffic to your website
Increase dwell time (the amount of time a user takes analyzing a web page before clicking back to search results)
Increase a user's understanding of your product or service
Generate new business leads
Increase sales
Reduce support calls
Increase brand awareness
Generate good ROI
To reap the above benefits, however, you need an effective video marketing strategy.
Your Video Marketing Strategy
Video marketing is an effective way to promote and market your business online, but there are also challenges.
Online consumers are inundated every day with all kinds of marketing, advertising, and sales messages, and exposed to other types of interesting, and engaging visual content like live streaming, interactive 360 videos, augmented reality, and more.
On top of this, many competing businesses are also using videos.
For your video marketing strategy to be effective, then, you may need to create different types of branded video content and distribute these through different channels to reach your target audience and achieve your goals, taking into account the fact that most online consumers have very limited time and short attention spans, that there may be a lot of competition, and that your business may have very limited resources, such as a small budget, and a content team that lacks the time and the video production and editing skills to create really polished videos.
It's also important to think about the purpose of your videos and where you plan to display these.
For example, some of the places you may want to display your videos include:
Landing or email-capture pages
Sales pages
Social media platforms
Social media ads
Private membership sites (e.g. welcome page, training pages, etc.)
Crowdfunding sites
Affiliate sites
etc.
Factors like your strategic goals, the story you want to tell using a video format, your budget, etc. will determine the types of videos your can produce and how you will distribute these.
For more information on creating an effective video marketing strategy, we recommend reading these excellent guides:
Video Marketing Distribution Channels
Research shows that in addition to posting videos on YouTube, more businesses are now planning to include channels like LinkedIn, Instagram, and TikTok in their video marketing strategy.
For the latest video marketing statistics, including the most widely-used video distribution channels, go here.
Types Of Videos
What are the different kinds of videos you can create and what types of videos should you create for your business?
This all depends on your video marketing strategy.
According to Wyzowl, here are the most popular types of videos being created
As the graph above shows, most video types fall into these groups:
Live Action – Live action videos are quick to film and edit, and can be made quite inexpensively (see description in the next section below).
Animated – Animated videos let you control every aspect of what viewers will see (see description in the next section below).
Screen Recorded – Screen-recorded videos essentially capture what you can see on your entire screen or a section of your screen, and can include mouse movements, callouts, annotations, in-picture videos, background soundtracks, etc. in the editing process. These types of videos are great for "looking over the shoulder" how-to tutorials.
And here are the most popular types of videos being created according to their purpose…
Let's go through these different types of videos:
Animated Videos
As stated earlier, with animated videos, you have complete control over all aspects of what will appear in your video.
You control the video's look and feel…from background scenery to main characters, design, text, callouts, colors, timings, transitions, soundtrack, special effects, and more.
Additionally, animated videos can be created completely in-house on your computer. You don't have to hire actors, scout for shoot locations, or worry about bad takes and reshoots. You can tweak and refine animated videos to your heart's content and go back and edit them at any time.
You can also use animated videos to create almost all other types of videos, including video ads, teaser videos, sales videos, explainer videos, product demos, event videos, training videos, onboarding videos, and more!
Here is an example of an animated video used to explain food safety cross-contamination…
For more information and examples of animated videos, go here:
App Demo Videos
App demo videos (also called app explainer videos) show off what a mobile app can do…how it works, how it looks, how it feels, and all the features and benefits users need to know and understand to download or buy and use your app.
App demo videos are often made using direct screen recordings but can include footage of the app, elements of animated or live-action video, 3D device animations, illustrations, and more!
Many app demos can also double up as explainer videos by introducing your target audience to the features and story behind your app.
Check out this animated app demo video for a children's learning app:
For more information and examples of app demo videos, go here:
Behind The Scenes Videos
"Behind the scene" videos let viewers meet the people working in your company, see your team at work, and gain valuable insights into your business processes and your company culture.
"Behind the scene" videos are not only great for personalizing your business and building trust but they can also act as an effective recruitment tool for your company.
Here is a great example of a "behind the scenes" video:
For more information and examples of "behind-the-scenes" videos, go here:
Corporate Videos
A corporate or business video refers to the production of video content for brands and companies that can be used for everything – from educating and persuading new customers, to providing informative walkthroughs and demos of your website or solutions, to training and onboarding new employees.
Corporate videos can include a mix of different video types – animated, live-action, screen-recorded, interactive, and more.
They are also quite versatile, in that the final video can be used for a wide range of purposes (e.g. social posts, emails, adverts, trade shows, etc.).
Here is an example of a corporate video created by a University for viewers who are deciding on which higher-learning institute they should attend:
For more information and examples of  corporate videos, go here:
Customer Onboarding Videos
Onboarding videos welcome, educate, and empower customers and users about the full benefits of your company, products, services, and features, help them get their accounts and administrative settings up and running, show them how to assemble and use physical/digital products, and give them the knowledge and tools they need to get up and running quickly.
Onboarding videos also help to improve user experience and increase customer satisfaction, retention, loyalty, and revenue by upskilling and empowering them and providing them with timely information and support, reducing product returns due to buyer's remorse.
Onboarding videos range from simple welcome videos to software demo videos, product walkthrough videos, detailed educational videos, etc.,
They can also be used in a range of different ways. For example, you can make them available as an on-demand "learn at your own pace" type knowledge portal, upload them to YouTube and add them to a 'User Onboarding' playlist, build the video content into your customer workflow as an interactive guide, and more.
Here is an example of a "bite-sized" customer onboarding video from Asana:
For more information and examples of customer onboarding videos, go here:
Customer Service Videos
Customer service videos help customers troubleshoot and solve problems, answer questions about your products or services, and reduce support queries.
Customer service videos can include FAQ videos, video tutorials, and feature or product demos.
Publishing customer service videos publicly can also help to build trust with users and reassure them that your business will be there to support them.
If you are wondering how to create customer service videos that will help get you and your customers out of a pickle, watch the video below:
For more information and examples of customer service videos, go here:
Demo Videos
Demo videos are short, educational video clips that showcase your products or services, highlight their key benefits, and explain or show how your products or services work.
Demo videos typically encourage viewers to purchase the product or service after watching it in action and can be done in the form of a tutorial, a showcase, or an animated video.
Here, for example, is an animated demo video offering an innovative solution to a problem that many new parents have to face (some do it bravely, and some just suck it up):
For more information and examples of demo videos, go here:
Event Videos
Event videos are great for grabbing the attention of viewers and passersby at events like exhibitions and trade shows and providing them with product highlights or a visual summary of what your business does.
You can also use event videos to generate a buzz (and sell tickets) before an event, add impact to award ceremonies (e.g. to introduce nominees, review "best moments", celebrate winners, etc.), enhance sales presentations or investment pitches, give audiences a "behind the scenes" tour at internal events like annual team meetings, sales conferences, sales kick-offs, etc.
Businesses of all sizes can benefit from event videos and produce these as animated event videos or live-action videos with event videography.
Here is an example of an event video aimed at participants with a lot of dough to throw around:
For more information and examples of event videos, go here:
Explainer Videos
Explainer videos are designed to save companies time and help viewers quickly understand their business, product, or service by communicating key concepts and key points concisely.
Explainer videos are one of the most popular and versatile types of videos. They can be any length, but many are typically 1-2 minutes long, and once created, can be used repeatedly in multiple ways, such as:
Your home page
Social media
Email signatures
Paid social/YouTube ad campaigns
Events
Introduction to training or onboarding new customers or new team members.
Additionally, you can use elements from your explainer video as web graphics (e.g. a screengrab) and other print/digital assets.
Here is a video that tells you nothing, yet explains everything about what this company does:
For more information and examples of explainer videos, go here:
Interactive Videos
Unlike "linear" videos where users can only play, pause, rewind, and fast-forward content, interactive videos put users in control of their viewing experience by allowing them to click and interact with your video content to make decisions, answer questions, complete forms, buy products, and more!
An interactive video is essentially video content overlaid with interactive elements so the choices viewers make while watching determine how the video plays out.
Some of the most popular interactive features & functionality of interactive videos include branching stories with clickable hotspots and outcomes that depend on the choices viewers make, navigating to specific chapters in the video content, interactive quizzes, and built-in eCommerce allowing users to fill out forms and buy products on your 'shoppable video'.
It's important to note that interactive videos need to be hosted on a special server for the overlaid interactive functionality of the video to work.
Click on the image below to view an interactive video that walks you through Amazon's company onboarding process using a gamified approach.
For more information and examples of interactive videos, go here:
Live-Action Videos
A live-action video is essentially recording people talking on camera. This can be the company CEO, members of a team, clients, customers, etc. telling a story in their own words, and sharing their expertise or experiences (e.g. testimonials).
Featuring real people in your video puts a face to your brand adds a personal touch, and helps to build trust and credibility
If you are looking to create a high volume of video content (e.g. for social media), live-action videos are ideal, as they are relatively quick to film and edit.
Here is one of the most successful live-action explainer videos of all time:
For more information and examples of interactive videos, go here:
Microinteractions
Microinteractions are trigger-based events where a user interacts with your website or mobile app through animation.
No doubt you have seen microinteractions on websites and social media. Simple examples are the 'heart' or 'thumbs up' animation that comes up when you like someone's post or text message, and the animated 'loading' icon you see when you are waiting for a web page to load.
Microinteractions are designed to provide users with instant and relevant feedback, add "emotion" and status updates, and encourage user interaction (e.g. sharing, liking, and commenting on your content). They can help to improve site navigation and user experience and make your website more interesting and engaging to users.
Microinteractions can be simple, as shown below…
Or complex, such as the Porsche Car Configurator:
For more information and examples of microinteractions, go here:
Product Demo Videos
Product demo videos let you educate, explain, entertain, and sell products by building customer confidence and removing barriers to purchase.
Product demo videos work in a similar way to explainer videos by showing users product features, explaining their functionality, and involving them so they can understand what the product does, how it works, and visualize themselves using it.
You can include live-action footage (e.g. someone presenting and giving a product demonstration) and/or animation (e.g. cross-sections, close-ups, etc.) in your product demo videos.
In addition to helping you sell products directly to consumers, product demo videos can also be used to educate your sales team, distributors, affiliates, clients, etc.
Here, for example, is a slick video aimed at coffee-loving consumers who want to enjoy barista-style coffees at home:
For more information and examples of product demo videos, go here:
Sales Videos
Sales videos support your sales process by helping to convert leads into new customers.
In addition to educating potential customers about the benefits and features of your products or services, they help to build rapport, address frequently asked questions, and proactively overcome objections, inspiring and persuading prospects to become customers.
Sales videos are also great for people that don't like being "sold to" as these can work for you as your 24/7 sales team, delivering a perfect sales pitch consistently, and allowing prospects to inspect what you have to offer in a place where they feel safe, comfortable, and at a time that is suitable and convenient for them.
Sales videos can save your sales reps time (by helping them spend less time on the phone taking and making sales calls), used instead of an actual sales team member, or included in a sales presentation.
Sales videos can be created using a blend of animated or live-action footage, and include text slides, testimonials, product demos or showcases, screen recordings, interactive elements, and more…whatever is required to get someone interested in your brand to the point where they make a decision to buy.
Of course, there is nothing wrong with injecting a little humor in your sales videos, so you can sell without actually saying much about your company or products, as shown in the video below:
For more information and examples of sales videos, go here:
Social Media Videos
Social media videos are short-form videos designed to tell stories that will attract viewers on social platforms and drive engagement actions.
Various types of videos work well on social media, including interviews, Q&As, live videos, announcements, reveals, behind-the-scenes, product demos, user-generated videos, giveaways and contests, promos and deals, event videos, and tutorials.
With most social media platforms, you can simply upload your regular videos, like the example video shown below, sourced from Facebook:
In addition to posting videos on social platforms, you can use animated videos and animated social graphics in status updates, profiles, news feeds, and other areas to keep followers interested.
Note: You may need to adjust your video formats and files to use some of the advertising and promotional features available on various social media platforms.
For more information and examples of social media videos, go here:
Teaser Videos
Just like movie trailers, teaser videos give viewers a sneak peek of a product or service and are designed to raise awareness and build anticipation about new and upcoming features, products, and events (live events, online courses, etc.).
You can create a teaser video if you haven't yet finished building your new product, service, feature, or idea. This allows you to get your promotion going and build momentum and anticipation for it earlier, as well as providing an opportunity for feedback from your audience.
You can then gauge the feedback and response to refine your development process and improve the chances of success for your final product.
Alternatively, if you are creating a teaser video for a more complete and fuller video-based product (e.g. an online course), here is an effective format for creating 'sneak-peek' videos:
Script and produce the full (i.e. complete) version of your video first
Identify an ideal spot in your video timeline to insert a break
Create an additional 'click here to learn more' slide
Produce two versions of the video: your full video and the shorter teaser video ending with the 'click here to learn more' slide.
You can also create the above sneak peek video by editing highlights of your course and compiling these into a "compilation teaser" video.
Once you have your teaser video done, make sure to share it on your website and social media platforms…maybe even consider boosting it with an ad spend or going offline (e.g. video billboards, events, TV, etc.) to generate maximum impact and awareness.
Below is a video compilation showcasing various product teaser videos:
For more information and examples of teaser videos, go here:
Testimonial Videos
Allowing your satisfied customers and clients to promote and champion your business through testimonial videos (and case study videos) is a powerful way to build trust, boost credibility, and provide social proof for your brand, and ultimately increase sales of your products and services.
Just as many consumers check product reviews from other users before making a decision, many people also watch video testimonials to learn more about a company, product, or service and to help influence their purchasing decisions.
Testimonial videos are especially effective when your business can demonstrate through customers or client testimonials how your solution, product, or service has helped solve their problems and address their pain points, as many of your target audience will experience similar issues and challenges.
There are various ways to create testimonial videos. You can:
Create low-budget testimonial videos in-house by collecting written testimonials from satisfied customers, adding these to a slide presentation with a voice-over and/or soundtrack, and presenting these as a screen recording
Use video testimonial software (see further below), or
Create live-action recordings using a professional video production company.
You can add testimonial videos to product/service pages on your website, share them on social media, include them in video ad campaigns, and various other ways.
Here is an example of a low-budget yet compelling video testimonial you could shoot  with just your phone and basic video-editing software:
For more information and examples of testimonial videos, go here:
Training Videos
Training videos are a powerful learning tool, especially "look over the shoulder"-style how-to screen recordings and videos that combine audio and visual elements with written text such as bullet point reminders, key concept summaries, checklists, diagrams, flowcharts, etc.
One of the main benefits of creating training videos from a business point of view is that these provide consistency in your organization. Videos can be used to train individuals or whole teams and explain your processes, policies, products, production workflows, and troubleshooting, as well as the culture, values, behaviors, and standards your organization expects from all team members.
They are also extremely cost-effective, as you can use the same video to train new team members or new customers or clients.
From the viewer's point of view, there are many benefits too. Viewers can learn at their own pace and usually at a time that suits them, rewind over points repeatedly, and demonstrate in a couple of minutes what could take hours to explain.
Training videos encompass a wide range of purposes and can use different styles (e.g. screen recording, animation. live-action, or a combination of all of these) to communicate their information.
For example, you can create the following types of training videos:
Product training videos to demonstrate how products work.
Demo videos to provide an overview of how a software application or product works.
Orientation videos to welcome new members to your team and help them learn about their new roles.
Customer relations videos to showcase customer interactions and improve customer experience using 'roleplay' scenarios.
Sales training videos to empower your sales team to present effectively, handle objections, and convert prospects into new sales.
Retail training videos to show your team how customers should be treated and help them learn skills like upselling and cross-selling, dealing with difficult customers and complaints, etc.
Safety training videos to demonstrate how to operate safely and follow correct procedures.
HR training videos to explain your policies and make your rules and expectations clear.
Explainer videos to help your team members, customers, distributors, reps, affiliates, etc. understand your business, products, services, solutions, etc.
Training videos can also be of varying lengths. In some cases, long videos may be required, such as recorded presentations or webinars. In other situations, it may be more effective if the information is broken down into bite-size digestible short videos.
For example, here is a comprehensive video tutorial on using Photoshop that delivers almost one hour of training content…
And here is an example of a short instructional video dealing with workplace bullying:
For more information and examples of training videos, go here:
Video Ads
Video advertising is using video content to sell products or services.
Video ads are typically promotional-type videos introducing your brand, product, or service, which are created specifically for sharing outside of your business, where you pay for audiences to view or click on it.
Video ads can be quite effective if done right. The key is to capture the viewer's attention within the first few seconds, and then keep them engaged with content that tells the right story without 'hard selling' them, and then asking for the purchase at the right moment.
Typical examples of video ads include:
Video banner advertisements appearing on a landing page or website.
Pre-, mid-, or post-roll video advertisements that are played before, during, or after an online video or a video posted on social media.
TV video ads aired as traditional commercials on TV or streaming services.
Live video ads shown as part of a real-time streamed event, conversation, or product launch.
Sponsored video ads (e.g. "This video is brought to you by…") placed within other videos or marketing content.
Below is an example of a video ad aimed at mobile phone users and created to promote Android:
For more information and examples of video ads, go here:
Videographics
"Videographics are an engaging visual representation of compiled data put forward in a graphically appealing and easy-to-understand way…

A videographic provides the audience with valuable information while entertaining them at the same time. It is a short, informative type of video that helps your audience digest your reports or statistical numbers better in a matter of minutes. "
Source: Breadandbeyond
Essentially, a  videographic makes information easier to interpret by taking complex data and data-driven messages from statistics, polls, and survey results and turning them into compelling and concise visual information made simple, quick, and easy to consume.
Informative videographics encourage sharing on multiple platforms, resulting in better brand recall.
Below is an example of a videographic-based video:
For more information and examples of videographics, go here:
Video Marketing Tools
Here are some useful tools tat can help to improve your video marketing results.
Hookle
Hookle is an app that lets you manage all of your social media marketing in one place and lets you schedule and publish your videos to all your social media platforms.
Check out the video below for an overview of this tool:
More info: Hookle

For more social media management tools that you can use to track video performance across multiple platforms, see this section of the course: Social Media Tools
Create Cartoon Explainer Videos Easily
Cartoon explainer videos can be very effective when it comes to grabbing and keeping a viewer's attention.
They can also be used to inform, educate, and convert viewers into prospective clients and customers, train users, simplify complex subjects, tell engaging stories, etc.
As stated earlier, explainer videos are great for getting your point across quickly, reducing customer support calls, and getting your videos shared online.
Cartoon explainer videos can also be expensive to create. A digital agency will typically charge thousands of dollars to create a short animated video for your business, and some will even charge thousands of dollars per minute of video!
For an inexpensive and easy-to-use cartoon explainer video creation software that you can use to create animated explainer videos in-house, check out Toonly.
Animated Video Creation Tool
If you are looking for a powerful video creation software tool that can help you create 2D & 3D animated marketing, explainer, and training videos, doodle sketch videos, and motion videos in-house in minutes, check out Doodly.
Live Action Video Animation
If you are looking for a video animation tool that lets you easily create stunning live-action video intros and logo stings with no video editing or production skills, check out Viddyoze.
***
For more video creation tools, see this section: Video Creation And Editing Tools
Video Testimonial Software
Use any of the tools below to collect video testimonials from happy clients and customers and promote these on your website, blog, social media, etc.
Vocal Video
Vocal Video is an all-in-one platform for collecting, editing, hosting, and sharing testimonial videos.
This tool lets you easily and quickly collect testimonial videos, edit them, and apply your branding.
You can also trim your video, add graphics and licensed music, switch from video to audio, and create a video transcript directly from the tool with no additional software required.
More info: Vocal Video
VideoAsk
VideoAsk is a "video conversation" platform that lets you and your customers quickly send video, text, or audio replies back and forth.
Essentially, it's like communicating via emails but using videos instead.
You can use this tool to collect customer feedback, add video welcome messages for respondents, and use conditional logic to send pre-recorded questions to customers based on their previous responses.
More info: VideoAsk
VideoPeel
VideoPeel allows users to click, record, and submit video testimonials automatically via mobile or desktop using a video capture link. The tool also automates thank-you messages.
VideoPeel displays all of your questions on one screen and offers you the option of choosing different video campaign templates (profile message, photo message, or video message). You can use their editing tools to add your logo, a simple text overlay, a star rating, and a disclaimer.
Collected video responses are held in a single repository for easy management.
VideoPeel also offers Shopify integration, Amazon syndication, and other eCommerce and social media publishing options.
More info: VideoPeel
Boast
Boast is a tool you can use to automatically collect raw video testimonials, written feedback, and star ratings.
Boast also offers an email drip campaign function that automatically sends customers a prompt to fill out a form.
More info: Boast
Vouch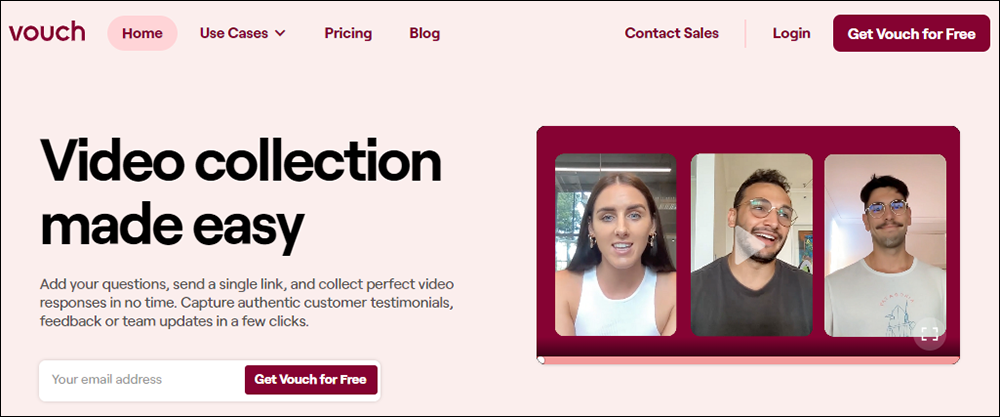 Vouch is a video testimonials tool that lets you add questions and send a single link to one or many users.
You can review your video responses and transcripts, trim your videos or stitch them together to create a playlist using their video editing software, and publish or share these via a link, embed code, or integration.
The tool features speaker notes, calendar reminders, and unlimited takes, allowing users to easily record their video responses and send these back to you.
Vouch lets you add your own logo, colors, and styling to control your brand experience across all touchpoints, and integrates with many popular workflow tools, allowing you to collect and share video testimonials from tools you are already using.
More info: Vouch
Video Monetization Platforms
Video monetization platforms allow you to get paid for the videos you publish online. When audiences view or download your content, you get paid, so the more that people watch, the more you earn.
If you would like to monetize your videos, consider using a tool like the one shown below.
Uscreen
Uscreen is an end-to-end white-labeled video monetization platform that supports subscription and pay-per-view models and is designed to generate revenue on OTT streaming services similar to Netflix or Hulu.
Uscreen provides everything you need to monetize, distribute and scale your streaming service business: video hosting, streaming, built-in billing, monetization, analytics, and even end-user support.
Uscreen also provides membership sites for your subscribers, fully-branded apps for mobile and TV, tools to host live streaming events, community and course features, and more than 1,000 integrations (e.g. Mailchimp, Salesforce, Constant Contact, ActiveCampaign, and many more!)
More info: Uscreen

For more information on video monetization platforms, see this article: Best Video Monetization Platforms
Video Marketing And WordPress
If you use WordPress, go here for plugins that can help you integrate video marketing with your WordPress site: WordPress Engagement Plugins
Managing Your Video Marketing Strategy
Video marketing is not only essential when it comes to promoting your content online effectively, it is also extremely challenging to track and manage effectively without the right strategy, systems, processes, tools, resources, and budget.
Before you start producing videos for your business, make sure that you have the following in place:
Summary
Most businesses with an online presence today need to engage in video marketing.  There are many types of videos you can create for your business, so it's important to develop a clear video marketing strategy for your business.
Action Steps
Create a video marketing strategy aligned with your overall content strategy and objectives, set up the systems you need to manage it effectively, and schedule regular reviews to make sure that your video marketing strategy is consistently delivering your business its expected targets, continued growth, and a positive ROI.
Resources
Also, see the sections below for additional information and video-related tools and resources that can help you create professional videos and video content inexpensively:
Video Tutorials
Learn useful strategies and practical methods that will help you improve your sales and conversions using video marketing.
More info: Video Marketing
Learn how to drive more traffic to your site and more customers to your business by getting your videos to rank higher on YouTube and on Google's search results.
More info: YouTube Marketing
References
Next Lesson
***
Image: Video icon