How To Create An Effective Content Strategy For Your Business – Part 5 Content Types
Learn how to create an effective content strategy for your business with this free video course. Part 5 of 12.
This is Part 5 of our free How To Create An Effective Content Strategy For Your Business video course.
This lesson covers deciding which content types and formats will best help your business reach its goals.
***
Watch the video lesson below or refer to the video transcript:
Video Transcript
Welcome back to our video course on how to create an effective content strategy for your business.
This is module 5.
In the previous lesson, we looked at setting goals for our content.
In this lesson, we'll look at the different types of content that we'll include in our content strategy.
You can read about each of these content types, including the challenges of creating each of these types, recommended best practices, and links to useful tutorials, tools, and other helpful resources by visiting the URL on your screen.
I've listed them here, but I won't go into each specific type in this lesson.
Content formats include not only common formats like text, images, video, and audio but also interactive formats, virtual and augmented reality, and live streaming.
What I do want to cover in this lesson are the key things to consider when making decisions about which content types you will use.
So, the first thing to consider is your target audience's needs.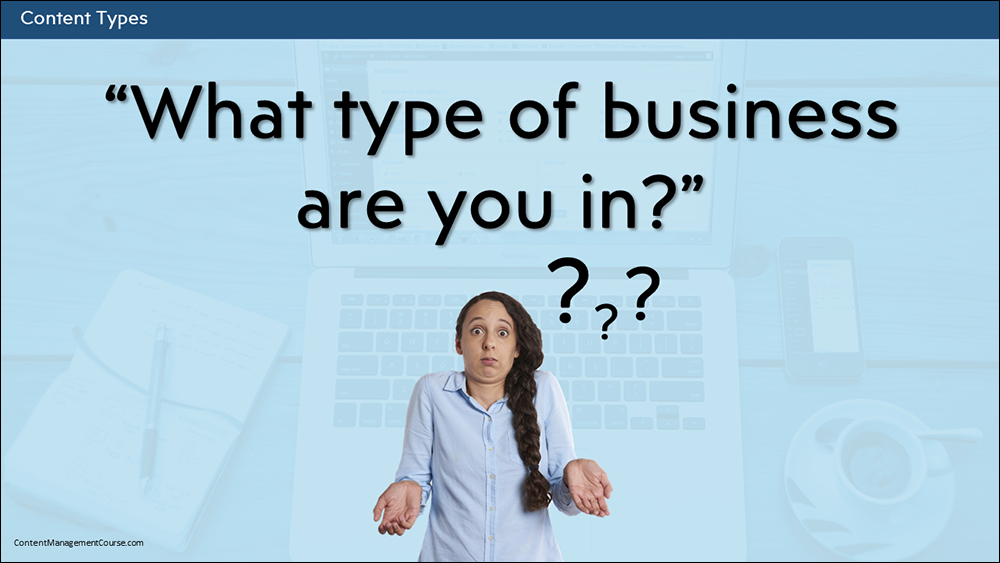 There are many different kinds of business models and what type of business you're in will affect which types of content you should create to keep your audience engaged.
For example, if we look at these side-by-side charts of content types for B2B and B2C businesses, we can see that while both types of businesses use articles and videos, with B2B businesses, there's more emphasis on using content types like webinars, case studies, and whitepapers, whereas B2C businesses focus more on using infographics, charts, and long articles.
So what kind of business are you in? What type of audience will you be creating content for?
You can read about which content types work best for different business models by visiting the link on the screen.
The next area is knowing what types of content our audience wants to consume, do they prefer their information delivered in the form of blog posts, webinars, case studies, eBooks, etc.?
As we will see in the next lesson, knowing which types of content we will need to create for different stages of our audience's buying journey is also important.
Resources are the other important area to consider when choosing content types.
These resources mostly have to do with our budget and what kind of team we have available to work on our content.
For example, if our content strategy requires the regular production of high-quality videos, then we obviously need to make sure that we have the budget to cover this and access to people with video production skills, plus the tools to create and edit video content, and so on.
That's one of the challenges we talked about in module 2.
An important part of creating our content strategy, then, is working with budgets and knowing what percentage of our total marketing budget will be allocated to areas like content production and marketing activities.
So, to summarize what we have covered in this lesson…
To create an effective content strategy, we not only need to understand our target audience and set content goals, we also need to familiarize ourselves with different content types and formats,
We need to know what kind of business we are in, as different business models need different content types.
We need to understand our audience's content preferences and which content types work best for different stages of the buyer journey,
We need to assess our resources in terms of the budget and team we have to work with, and then we have to decide which content types we'll create to meet our audience's needs within our available resources.
For more information about all of these areas, see the tutorials and lessons listed on the screen.
In the next lesson, we'll look at doing a content audit, which is taking an inventory of our existing content to see how it's performing and identify any gaps or opportunities that we may be missing out on.
Thank you for watching and I'll see you in the next lesson.
Tutorials
See the following lessons and tutorials for more information  about the topics covered in this video lesson:
***
Image: Robin Higgins. Music Bensound.