How To Create An Effective Content Strategy For Your Business – Part 6: Content Audit
Learn how to create an effective content strategy for your business with this free video course. Part 6 of 12.
This is Part 6 of our free How To Create An Effective Content Strategy For Your Business video course.
This lesson discusses effective ways and tools to do a content audit to identify the types of content your business is currently producing, assess the performance of your existing content, and identify gaps and opportunities in your current content offerings.
***
Watch the video lesson below or refer to the video transcript:
Video Transcript
Welcome back to our video course on how to create an effective content strategy for your business.
This is Module 6.
In the previous lesson, we looked at the types of content we'll need to produce to meet our audience's needs and the goals we have set.
In this lesson, we'll look at doing a content audit, which is taking an inventory of our existing content to see how it's performing and to identify any gaps or opportunities that we may be missing.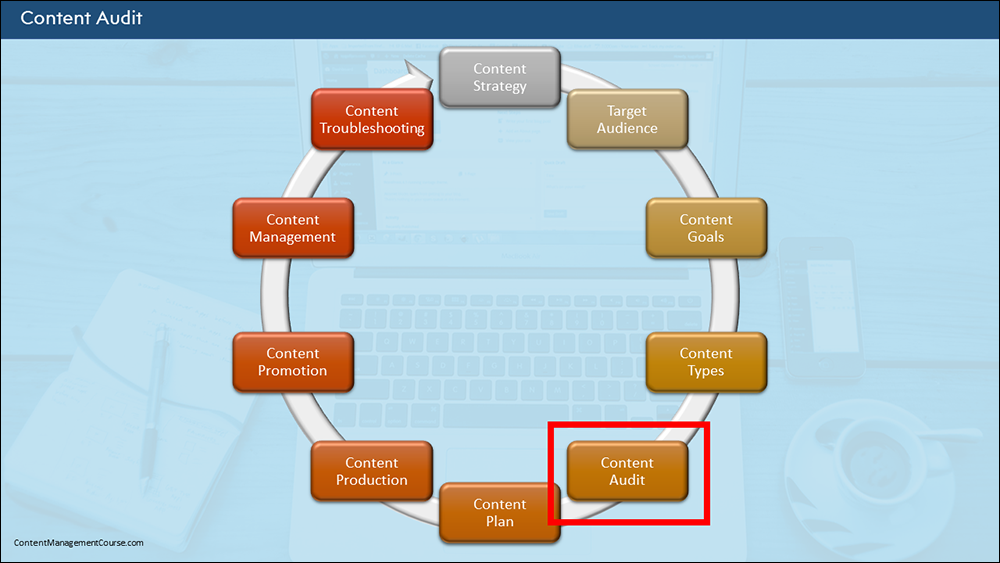 Up to this point, the focus has been to get our thinking organized so we know who we are going to be creating content for, what types of content we'll be creating, and what we want to achieve with our content.
Now, it's time to take stock of where we are currently at, so we can plan where to go from here.
So.. how do we go about identifying the types of content that our business is currently producing?
The best way is by doing a content audit.
So in this lesson, we are going to look at what a content audit is and why your business needs one.
And we'll also look at how to perform a content audit and tools that will help make this easier and faster.
So, what is a content audit?
A content audit is the process of systematically analyzing and evaluating our existing content's performance and effectiveness.
It involves identifying and cataloging all of our content, evaluating its quality and relevance, and determining which content should be kept, updated, consolidated, or removed.
The goal of a content audit is to ensure that our content is aligned with our business goals and objectives and is providing value to our target audience.
So, why does your business need to perform a content audit? What are the benefits?
Well, there are a number of reasons for performing a content audit.
The first reason is to make sure that the content is aligned with your business goals.
By evaluating the relevance and effectiveness of your existing content, we can then identify areas that need to improve to better support the goals of the business.
Another reason is to improve user experience.
A content audit can help to identify content that is confusing, outdated, or irrelevant to users, which can negatively impact their experience.
By removing or updating this content, we can improve the overall experience of our visitors.
Another benefit is that it helps to identify gaps in our content and inform our future content strategy and planning activities.
A content audit also helps to improve SEO: By identifying and removing duplicate or low-quality content, we can improve our content's search engine rankings and visibility.
And a content audit also provides insights to help evaluate our content performance in terms of engagement and conversions, and identify which content is resonating with our audience and which content isn't.
So those are some of the reasons for performing a content audit.
Now, how do we actually perform one?
Well, the first step is to set some goals.
So, here are some general goals we'll want to set.
First, we'll want to start by identifying the purpose and the main objectives of the audit.
This could be to improve the user experience, increase conversions, or to align our content with the overall goals of our business.
Once we have identified the main objectives of our content audit, the next step is to define the specific goals and steps that will help us achieve those objectives.
For example, if our goal is to improve user experience, a specific goal could be to reduce the bounce rate on our website.
We'll also want to set measurable targets to track our progress and evaluate the success of our audit.
For example, if our goal is to reduce the bounce rate on our website, then we'll want to set a target percentage to achieve.
It's also important to establish a timeline and set a deadline for achieving our goals.
It's easy to get lost in all the little details and become overwhelmed once we start, so defining a time frame will help us to stay focused and motivated throughout the audit process.
We'll also want to review and revise our results once the content audit is completed and evaluate whether the goals were met.
If they weren't, we'll need to revise our goals and identify any areas that need improvement.
Once we have set goals for our content audit, the next step is to perform an inventory of our existing content.
The aim of the content inventory is to basically take stock of all of our existing content … so, that means making a list of all of our blog posts and articles, videos, podcasts, social media posts, email newsletters, infographics, and any other types of content that we are currently outputting.
There are a number of tools that can help make this process easier and faster, and I've listed these in the URL shown on the screen.
After gathering and making an inventory of all our content, the next step is to organize and categorize it.
You can use a spreadsheet to document everything. You can create this spreadsheet from scratch or use a template.
There are content audit templates that you can download and I've added links to useful content audit templates in the slide.
In our spreadsheet, we simply create a column for every new category of data that we want to analyze, add each new content item from our inventory into a new row, and then just go across and fill in the information.
The table on the slide lists some of the items that you may want to include in your spreadsheet to categorize content-related, SEO, and performance elements.
And how you choose to organize and categorize your content and how much detail you want to record about each item is completely up to you.
At a minimum, you'll want to list your content URLs, and add various useful categories, some metadata, and important metrics to track.
It's also a good idea to categorize the content into different types. For example, written content, video content, social media posts, etc.
Also, if you review your content calendar – which we'll talk about in another lesson, it will help you identify the types of content that your business is currently producing and planning to create in the near future.
After categorizing our content, we can then start to analyze our data.
Analyzing our content gives us a better understanding of the types of content our business is currently producing.
So we can begin by asking questions like:
Which topics or themes are we mostly focused on writing about?
Which content types are we mostly focused on creating?
How often are we producing this type of content?
What is the purpose of the content (is it to educate, entertain, generate leads, etc.)?
Who is its intended audience?
Which stage of the buyer journey is this content aimed at?
Which types of content perform the best?
Which types of content are most popular with our audience?
Are there any obvious gaps in the content that stand out, which we should be addressing and taking advantage of?
Do this for your web content, your social media channels, your email marketing, etc.
As you analyze your content, you can also record notes about each item to help your team decide what to do with it later on.
For example, you can mark items as having
Missing content. So, are there any topics that the content hasn't covered which would be of interest to the audience?
Underperforming content. Looking at the numbers, are there any items that aren't performing as well as they should?
Outdated content. Can the information be refined (or updated or reworked) to remain optimized and relevant to our audience?
Hit Content. This is content that's performing well, and its metrics and results are meeting or exceeding all targets and expectations. So it can be left alone, as it's already doing well.
A really useful tip is to use color coding where assigning colors to different categories in your analysis, then highlight the rows with these colors as you work through the spreadsheet.
So, for example, you can highlight items with missing content in a light red color, underperforming content in yellow, or outdated content in blue, and hit content in green.
This way, anyone looking at the spreadsheet will quickly be able to tell which items need attention and filter these for actioning later.
You can also use tools like Google Analytics and social media analytics tools to gather data on how your content is performing.
After analyzing the content, the next step is to classify it.
This step is important if you plan to rank content by priorities or include a timeline for your audit.
So, the goals that we defined earlier will help to prioritize what needs to be executed first.
For example, you may want to prioritize content from 1 to 5, and then define what happens to content assigned to each of these levels.
So, we would first classify all items as 1, 2, 3, 4, or 5.
Then, let's say that all items ranked 1 are top-converting content and should be given top-priority treatment.
So, we analyze all priority treatment items, that is all items marked 1, further to find ways to do things like
Improve the content, for example, make sections clearer or more detailed, add supporting media like explainer videos, downloadable reports, etc.
Or improve search ranking through different SEO methods, for example, internal linking, more helpful content, etc.
Or improve traffic through social media, email newsletters, paid ads, content repurposing, etc.
So using this process, we can then specify that all items with a score lower than 3 should be transferred to a separate spreadsheet, analyzed in more detail, and assigned different highlight colors to determine whether the content should be updated, rewritten, or trashed.
Now. depending on how much content there is, you may also want to schedule it using a content production tool or your editorial calendar.
And the last step of the content audit process is to take action.
Here we evaluate our content and note what's working and what isn't.
Are you seeing desired results from your content like increased website traffic, leads, etc.? If not, what can be improved?
Look for opportunities for improvement and document your findings in your content strategy.
Ultimately, the objective of the content audit is to help you decide whether to keep, discard, refine, or develop content after analyzing each content item that you have inventoried.
So with each item of content, we would use our analysis data and notes to decide if we are going to keep or trash the item.
If we decide to trash the item, there are some things to consider, like whether the item has any kind of traffic or SEO value.
If so, we may want to redirect visitors to another content item before trashing it.
And if we decide to keep the item, does it need to be refined with a quick fix, a longer update, or even a complete rewrite?
Also, the audit may reveal missing gaps and opportunities to develop new content, repurpose existing content, like turning an article into a video or even consolidate a number of articles or blog posts on a similar topic into one authoritative long-form article or guide.
For more information on how to make the most from each of these options, please visit the tutorial listed on the screen.
Let me give you just a couple more tips before we move on…
After performing a content audit, list 5-10 immediate action steps and start getting to work on those right away.
Also, keep in mind that some actions that require little effort can deliver big results (like improving page structure or adding internal links to other content on your site), while other actions need a lot of effort but could deliver poor results (like spending weeks creating a downloadable guide or an eBook).
It's also important to keep things manageable. As you can imagine, a content audit can turn into a huge and overwhelming task, especially if your business has already published lots of existing content already.
Ideally, performing a complete and thorough audit of your content is best. However, it's completely up to you to decide which content you will audit, how you will do it, and what goals you are trying to achieve.
So for example if time is a limiting factor, you can break things down into smaller goals and audit only content that falls within a certain period of time (e.g. the previous 6-12 months), or content that meets only certain metrics (like your 50 most popular articles ranked by traffic or conversions), or audit only your website's blog posts, etc.
Finally, after performing an initial content audit, you will want to schedule regular content reviews (e.g. perform an annual review), as this will continue delivering valuable insights on ways to improve not just your content strategy, but your website and your business too.
Now, let's talk briefly about taking our content audit further.
A content audit doesn't have to be limited only to content on your website.
You can also perform audits in areas like…
Offsite content assets. So if you've published content on external sites like infographics or slide decks, it's a good idea to include as much data as you can gather on any external content pieces to help you assess how effective your content marketing efforts are.
There's also other marketing channels you can look at. As mentioned earlier, you are not restricted only to your web content, you can also look at your social media channels, email marketing, and so on.
For example, if you run email marketing campaigns, is the content in your autoresponders up-to-date? Are there messages with higher open rates than others? Many email services provide analytics and reports that can help you improve the performance of your emails.
You can also audit your social shares. If your site displays share counters on pages, you can measure social shares by looking at the post itself, or by entering the URL of the page or post into various online services. This should provide plenty of actionable data about areas where your competition is outperforming your site.
Also, think about approaching sites that are linking to your competitors with a better piece of content or a guest post idea on the same topic and see if you can persuade them to link to your site instead.
And finally, you can also audit your competitor's websites. You can use many of the same tools that you used to analyze your own site to perform competitive analysis on your competitors' sites.
This can help to improve your content performance, especially in areas like SEO or driving more traffic to your site.
While you won't be able to access certain metrics about their website (such as bounce rate, average time on page, and conversion rate), there are things you can track, like who is ranking higher for the keywords you are targeting, number of backlinks, etc.
So in summary,
If your business has existing content, performing a content audit is key to an effective content strategy.
Taking stock of what we have helps us know how we are doing and where we are going.
A content audit can benefit your business in many ways. It helps to align your content with your goals, improve user experience, identify missing gaps and new opportunities, make better data-driven decisions, and improve your content strategy's overall performance and results.
And depending on how much content you have, a content audit can be a major task, so use tools to help you. Keep it manageable, but take action. Don't just let the information sit in a spreadsheet.
After performing an initial content audit, schedule regular content reviews to make sure that there's continuous improvement and better results in your business and your website.
And finally, remember that you can perform content audits in other areas of your business too, such as external content, other marketing channels, social shares, even audit your competition!
For more detailed information about what we've covered in this video, visit the tutorials and lessons listed on your screen.
So that's all for this lesson.
In the next lesson, we'll look at how to start implementing our content strategy by creating a content plan for our business.
Thank you for watching and I'll see you in the next lesson.
Tutorials
See the following lessons and tutorials for more information  about the topics covered in this video lesson:
***
Image: Robin Higgins. Music Bensound.