How To Create A Content Strategy
Learn how to create an effective content strategy for your organization.
Managing content effectively for an organization requires working with a solid content strategy that will guide and drive all the content it creates to achieve its goals.
If your organization already has a well-defined content strategy in place, great! Learn how to work within the existing framework.
If your business doesn't have a content strategy, however, then you will need to help them create one. Otherwise, all the effort that goes into planning, creating, promoting, and managing content will probably lead to ineffective results and a waste of valuable resources.
This lesson will show you how to create a content strategy for your business if there isn't one already in place.
Note: Part of the content featured in this lesson was sourced from an excellent tutorial on how to develop a content strategy published by Alexa.com on its blog.
This site, however, shut its service on May 1, 2022. (You can view the original article here).
Fortunately, we have a downloadable copy of their customizable content strategy template and worksheet, which you can access by subscribing to our free email lessons.
Alternatively, check out the excellent guide on how to create a content strategy with a downloadable content strategy workBook from HubSpot.

Watch our free video course on how to create an effective content strategy for your business.
Before You Begin
Please review the Content Strategy Overview before starting this lesson.
How To Develop A Content Strategy
Developing a solid content strategy starts with:
Assessing the scope and the extent of all the content that your organization is and will be responsible for creating and managing, then
Understanding the inputs and outputs that will shape its content strategy.
1 – The Scope And Extent Of Your Content
The deeper you look into your business, the more you will realize that every area of your business needs content, so the scope of your content strategy must extend to all areas of your business and encompass every process from planning to creation to promotion, and management.
It also must take into account the interdependence of all these areas and processes and define how the people in your business will interact with this content.
For example, your products and services need content. There's content in their names, their descriptions, their packaging, their promotion, etc. Different teams and areas of your business may handle different aspects of these (e.g. Development, Production, Marketing, etc.) yet everything needs to be in complete agreement with respect to the content that is attached to your products and services.
For example, your marketing team may handle the product's name, description, branding, promotion, etc. but this needs to translate into non-physical processes (e.g. feedback from users back to product developers) and physical processes (e.g. creating labels for packaging) and all of this must be communicated to your content team.
This all requires content management and is part of your content strategy.
Similarly, your business uses technology to store and process content (e.g. a website), and while you may not need to understand how to build a website or look after servers, you (and your content team) need to know how to interact and use this technology to add, edit, and manage all the content being stored and processed via the technology, tools, and solutions used by the business.
Additionally, all of your business's internal processes utilize content to communicate with and train its staff, partners, vendors, suppliers, etc.
Finally, there is the type of content most of us are familiar with, which is the content used to promote and sell your company's products and services via content marketing methods and content distribution channels.
2 – Inputs And Outputs
Your content strategy will be shaped by your business goals, the audience it intends to reach, the competitive landscape, resources, tactics, costs, and how results will be measured.
The major inputs that build the foundation of an effective content strategy include:
Goals: What does the business want to accomplish using content?
Audience: Who do you want to reach with content?
Competition: What other content is already available in your industry or niche?
Resources: Which internal assets can the business leverage?
Tactics: What activities will help the business meet its goals?
Investment: What budget is available for content-related activities?
Measurement: How will content results and performance be tracked and measured?
Let's go through each of the above inputs of a content strategy in a little more detail.
Step 1: Define Your Goals
Developing a solid content strategy begins with defining what the business wants to accomplish using content.
Some things to consider when setting goals for a content strategy include:
Needs, goals, and objectives already defined by the business through its business strategy and marketing strategy.
Company values, vision, mission, and other considerations affect what the business or brand stands for.
Getting buy-in from all major stakeholders.
Some of the goals that a content strategy may address include:
Growing awareness of your products
Supporting customers
Changing how people think about something
Attracting and retaining employees
Encouraging free trial signups
Nurturing leads into conversions
Building repeat customers and loyalty
It's also important to build a periodic review of the content strategy into the overall strategic plan, as goals can and do shift as an organization grows and these should remain aligned with the needs of the business.
For example, businesses that are just starting out may want to focus on building brand awareness. As the business becomes more established, it may then shift its attention toward nurturing leads.
In addition to having goals that can shift over time, it's important to understand that different businesses and organizations adopt different models to set, measure, and achieve goals.
As a content manager, you will need to work with whatever goal model the business uses.
Examples of different goal models include:
OKRs (Objectives and Key Results)
MBO (Management by Objectives) or MBP (Management by Planning)
OGSM (Objectives, Goals, Strategies, and Measures)
KPI (Key Performance Indicators)
SMART (Specific, Measurable, Achievable, Realistic, and Time-constrained)
etc.
SMART Goals
SMART goals are specific, measurable, attainable, relevant, and time-bound.
Here's what each of these elements means:
Specific: Your goals should be specific and clearly defined. Instead of saying "I want to increase website traffic," say "I want to increase website traffic by 25% in the next 3 months."
Measurable: Your goals should be measurable, so you can track your progress and determine whether you're on track to achieve them. In the example above, "25% increase in website traffic" is a measurable goal.
Attainable: Your goals should be attainable, but still challenging. If your goals are too easy, you won't be motivated to work toward them. If they're too difficult, you may become discouraged.
Relevant: Your goals should be relevant to your overall business objectives and audience needs. If your goals don't align with your business or your audience, you won't see the desired results.
Time-bound: Your goals should have a specific timeframe for completion. This helps to give you a sense of urgency and helps to keep you on track.
Regardless of the model used to achieve goals, keep in mind that goals often also tend to be aspirational (i.e. they will push the team to try and achieve ambitious outcomes), so some degree of flexibility may be required in this process.
Setting Content Goals
It's important to align your content goals with your business goals and document these in your content strategy.
Here are the steps you can follow to set goals for your content:
Identify your target audience: Understand the demographics, interests, and needs of your target audience, as this will inform the types of content you should create.
Define your business objectives: Determine how content can support your overall business objectives, such as driving website traffic, increasing conversions, or building brand awareness.
Establish specific, measurable, and actionable goals: For each objective, create specific, measurable, and actionable goals that align with the objective. For example, "Increase website traffic by 30% within the next six months."
Prioritize your goals: Prioritize your goals based on importance and feasibility. This will help you focus your resources on the most impactful content.
Regularly review and adjust your goals: Continuously review your goals and adjust them as needed. The digital landscape can change, what worked well before may not work as well now. Make sure your goals are current and feasible.
Measure and analyze your performance: Use analytics tools to track your performance and measure the success of your content against your goals. This will help you identify areas for improvement and make data-driven decisions.
By following these steps, you can set clear and measurable content goals that align with your business objectives and help you achieve your desired outcomes.
Prioritizing Content Goals
When prioritizing content goals, it's important to consider both the importance and feasibility of each goal.
Importance refers to how closely a goal aligns with the overall objectives of the organization or project, while feasibility takes into account the resources, time, and other constraints that may impact the ability to achieve your goal.
One way to prioritize content goals is to use a method such as the Eisenhower Matrix, which separates goals into four categories based on their importance and feasibility:
Important and Feasible: These are the goals that should be prioritized and tackled first, as they will have the greatest impact and can be completed within your available resources. For example, creating product announcement blog posts when new products are released or existing products are updated would likely fall into this category.
Important but Not Feasible: These goals are important, but cannot be completed given your current constraints. These may need to be put on hold or reevaluated to determine if they can be made more feasible. For example, producing a high-budget video ad campaign with a low budget would fall in this category.
Not Important but Feasible: These are goals that are not critical to the organization's objectives, but could still be achieved with the available resources. These goals can be completed if time allows but should be given lower priority than more important goals. For example, translating website pages into another language that is not critical for your target audience would probably fall into this category.
Not Important and Not Feasible: These are goals that are neither important nor feasible and should not be pursued.
When using a method like the Eisenhower Matrix, list all of your goals, then evaluate each one,  add them into one of the four categories, and make a decision based on the category selected.
Keep in mind that the digital landscape is always changing, so what worked well before may not work as well now. Feasibility and importance can change over time, so it's a good idea to regularly review and re-evaluate your goals and priorities to ensure these remain current, feasible, and aligned with your overall objectives.
Step 2: Know Your Audience
A critical component of developing and implementing a successful content strategy is knowing your audience.
Understanding who your ideal customer is, their needs and wants, their buying patterns, how much they are prepared to spend, how they prefer to consume the information they are looking for, etc. is an in-depth process that requires focused effort and time spent on research.
This step is crucial to other content-related processes like content planning, content production, and content promotion.
If you don't know where to start, begin by spending time talking to everyone in your organization that has insight about your audience, (e.g. CEO, the sales team, product managers, customer service dept., etc.) to glean as much insight as you can about your audience.
Identify all the audience groups in the decision-making process that your content needs to reach.
Often, this may include multiple people. For example, with B2B, your audience may include the business owner, buyers, end-users, experts, consultants, etc.
With B2C products or services with less complicated buying cycles, it's important to find out who makes the purchase and who can help to amplify your content.
Here are some questions that can help you identify your target audience(s):
What does your audience care about?
What are your prospects' pain points?
What problem(s) does your business help to solve?
How and where does your audience like to consume information? For example, do they mostly watch videos or reviews when searching for information? What are the predominant social media platforms they gravitate towards? Are they likely to subscribe to a newsletter?
The more accurately you can answer questions about your audience, the more accurately you will be able to pinpoint things like:
Which types of media you will need to create to reach them (video, audio, images, long-form blog posts, influencer or celebrity endorsements, etc.),
What topics to address in your content
What stage of the sales process the audience is at (top, middle, or bottom of the funnel)
Which content delivery channels your content strategy should focus on for the best ROI (SEO, social media, paid search ads, email, forums, PR, print, etc.).
You can also gain a better understanding of your audience by creating and adding documented buyer personas and customer journey maps to your content strategy.
For more information, go here: How To Identify Your Target Audience
Step 3: Examine Your Competition
Looking at what the competition is doing with their content can tell you a lot about which content strategies are working in your industry.
It can also help you identify gaps that no one else seems to be filling and incorporate these into your content strategy.
See the content research tools section for tools and resources that will help you research competitor data (e.g. where most of their website traffic comes from, paid and organic keywords, backlink profiles, audience interests, etc.)
Step 4: Assess Your Resources
Most businesses have limited resources, so it's important to review and assess these to determine the capabilities and limitations of the business to implement a content strategy.
It almost goes without saying that the fewer resources a business has, the more resourceful it needs to become.
This step involves evaluating resources like:
People – As covered in earlier lessons, it takes a sizeable team to fill all the roles required to plan, create, promote, and manage content. Who will help to fill all these roles in your organization?
Budget – As we'll explore further in this lesson, without resources like people or money, there's very little you can do to successfully implement a content strategy (it can still be done, however…it just takes longer and requires more effort, commitment, desire, and resourcefulness – this site is an example and its content will show you how to get things done with little to no budget and starting with just one person…you!).
Systems – What systems, tools, and applications does the business have in place to help leverage and automate processes and tasks in content-related areas? For example, will you need to implement an editorial calendar and create documentation and training for internal staff and users? This course will show you a number of cost-effective systems and tools you can use to get more things done in less time.
Content – Look at the existing content of the business. How much of it needs updating? Can any of it be repurposed? What new content needs to be created? A content audit can help to identify strengths, weaknesses, and opportunities in this area.
Differentiators – Is there anything your business does better than anyone else in your industry? Does it have a unique perspective or an outspoken founder whose voice you can leverage? Is there a unique point of differentiation that you can use to cut through the noise and the clutter and hook customers in?
Assessing resources will not only tell you what you can do, it will also tell you which constraints you'll have to overcome or accept to move forward, which opportunities, tactics, and angles aren't worth pursuing, and the choices and options you will have to narrow your content strategy down to.
Step 5: Explore Tactics
As mentioned earlier, most businesses have limited resources, so it's important to evaluate the benefits and costs of using different tactics before investing any time, money, or effort in pursuing them.
Before looking at tactics, however, it's important to understand the difference between strategies and tactics.
Wikipedia defines this difference as follows …
"Strategy is undertaken before the battle. Tactics are implemented during battle. The terms tactic and strategy are often confused: tactics are the actual means used to gain an objective, while strategy is the overall campaign plan, which may involve complex operational patterns, activity, and decision-making that lead to tactical execution."
Source: Wikipedia
Tactics, then, are what you do in the middle of a battle. Your strategy, on the other hand, is how you prepare beforehand to win the war.
Strategies help the business decide on the tactics (i.e. the methods) that it should or shouldn't use to achieve its objectives.
For example, a content strategy can help the business decide whether to invest its small advertising budget on social media or pay-per-click ads, which product(s) it should promote first, what type of keywords it should target, etc.
Step 6: Estimate Your Investment
According to research done by the Content Marketing Institute, businesses increased their average budget spending on content marketing after the pandemic but the size of their content marketing teams did not increase.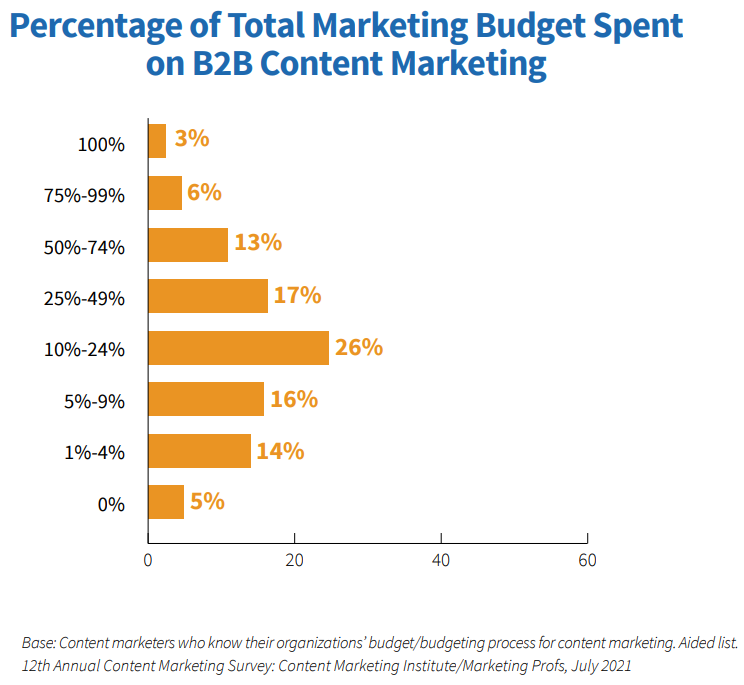 So, businesses are prepared to spend more on content marketing but they also expect their staff to take on more responsibilities in content-related activities.
As a content manager, you will need to become more resourceful and learn to work with whatever budget you're given.
Start by estimating the cost of your strategy. What areas need more shoring up internally? Which areas need outsourcing? Which areas of content marketing are worth investing more time and money in?
When assessing costs, keep in mind that content also has a 'lifespan' and that there is a cost to maintaining and retiring it.
Before finalizing your strategy, make sure you have considered all the resources you will have at your disposal to make sure you will have the budget to implement it.
Step 7: Plan How You'll Measure Results
Once goals have been set, it's important to decide on the metrics and KPIs that will be used to evaluate your content strategy. Here are some common examples.
It's important to keep in mind that a content strategy plays out over the long term and will take time to show returns and results. For example, if SEO is part of the strategy, you can measure progress by looking at keyword rankings, backlinks, page views, and leads, but expect at least six months to a year before you begin to see actual results that will allow you to make a decision on its effectiveness.
See the content planning module for more information on how to create a plan to measure the results of your content strategy.
Content Strategy Examples
Businesses with different values and cultures selling different types of products and services in different industries need a customized content strategy that will work for them.
For this reason, some organizations hire content strategists to create, document, and oversee their content strategy. Smaller businesses, however, may need to assign one or more people to create their content strategy internally.
Here are some examples of how a content strategy can work for different types of businesses with different needs.
Retail
The content strategy of a retail business can focus on areas like:
Using content to help the business reach target clientele, overcome the barriers to buying products online, and build loyalty for repeat purchases.
Using a blog and building an audience for distribution via email subscription
Using short copy content for a time-strapped audience.
Using images on its social media, website, and blog to make products more relatable to buyers and convert site visitors
Using videos to demonstrate product uses and features.
Manufacturer
The content strategy of manufacturing businesses can focus on areas like:
Using content to reach buyers at various stages. For example, using a blog and SEO to attract top-of-funnel traffic and leads, educating site visitors with a library of resources, and helping customers and encouraging referrals in an open forum.
Producing detailed content that is easy to consume with engaging images, video, short paragraphs, and clear, simple writing instead of using dry technical copy.
Consumer Service
The content strategy of a consumer service business can focus on areas like:
Using content to gain awareness, build trust, educate, and help show consumers how to use the service.
Connecting with the audience using an empathetic, authentic voice that flows from the business team's experience and supporting this voice with appropriate images and captions.
Building an extensive library of deep, long-form helpful articles with downloadable worksheets.
Creating partnerships and active contributor placements on industry websites to help build brand awareness and garner backlinks to boost site authority.
Technology Company
The content strategy of a technology company can focus on areas like:
Using content to build awareness for its products and affinity for its culture.
Encouraging free trials among marketers, product managers, and UX designers.
Focusing on purpose-driven content that embraces company values.
Attracting search traffic with deep content organized in a 'hub and spoke' structure.
Building its email subscriber list to encourage repeat engagement and nurture leads.
As you can see, there is no "one size fits all" content strategy that will work for every business. Every business has its own unique needs and, therefore, needs its own unique content strategy.
Content Strategy Checklist
Define content strategy goals: Clearly define the goals for the content strategy, such as increasing brand awareness or driving website traffic.
Audience research: Conduct research to understand the demographics, interests, and pain points of your target audience.
Competitive research: Analyze the content of your competitors to understand what topics and formats are resonating with your target audience and how you can differentiate your content.
Define content themes: Define the themes that align with your business goals and audience interests.
Create a content calendar: Create a content calendar that outlines the topics, formats, and publishing schedule for your content.
Establish a content workflow: Establish a content workflow that outlines the process for creating, reviewing, editing, and publishing content.
Set metrics and KPIs: Set metrics and key performance indicators (KPIs) to measure the success of the content strategy.
Optimize for SEO: Optimize the content for search engines by including relevant keywords, meta descriptions, and alt tags.
Allocate budget and resources: Allocate budget and resources for creating, publishing, and promoting the content
Collaborate and communicate: Collaborate and communicate with other teams and stakeholders to ensure the content aligns with the overall company goals and objectives.
Continuously monitor and improve: Continuously monitor and improve your content strategy based on the results and feedback.
Summary
A content strategy is essential for any organization that intends to grow using content, as it will guide and drive all the content it creates and set the business on the path to success.
A content strategy will also show the business how to do more with less, when to embrace a new idea (and when to say no), and determine when the strategy should be periodically revisited to achieve its goals.
Developing a content strategy looks at inputs and outputs to the company that will shape its strategy and includes defining goals, understanding the audience it intends to reach, analyzing the competitive landscape, reviewing its resources, evaluating tactics, budgeting costs, and deciding how results will be measured.
There's no one size fits all solution and building a successful content strategy won't happen overnight. Online content is at an all-time high, and the only way to get ahead of the competition is by developing winning strategies. And, while there's no one size fits all solution, identifying and including the three key elements — brand focus, user experience, and content distribution — will help develop a plan for business' success. Remember, messaging should be unique and always on-topic. Content must meet customers' needs at different stages of the sales funnel. And, effective distribution is essential for exposure to high-quality content.
Action Steps
If you need help creating a content strategy for your organization, check out the resources and references below.
To access and download a customizable template and worksheet that will help you with your content strategy, allow you to collaborate with your team, and record your content research, make sure to subscribe to our free email lessons.
Resources
Visit our tools and resources section for additional courses, guides, and helpful tools and resources for content managers.
References
Next Lesson
***
Image: Business meeting