The Role Of The Content Manager
Learn about the role of a content manager and what you need to know to manage content effectively in a digital business presence.
In this training module, you will learn about the role of the content manager.
This section provides an overview of the topics included in this training module with links to more detailed lessons.
It will help you answer questions like:
Why does your business need someone to manage your content?
What does a content manager do?
What are the responsibilities of a content manager?
Why is having the right mindset important for a content manager and how will it help you manage digital content effectively?
What skills does a content manager need?
What kind of different business setups can content managers find themselves in and what are the challenges involved in each of these setups?
What content management tools, methods, and systems does a content manager use?
How do you become a content manager?
We recommend going through the entire overview below before starting on the lessons in this training module, as it will help set the right foundation for this course.
Additionally, we recommend subscribing to our free content management course email lessons if you haven't already, as these provide a practical step-by-step way to implement the lessons in this course.
***
---
Note: Many of the concepts described in this module are explained in more detail in our ebook, The Small Business Digital Manager.
The Small Business Digital Manager explains why many businesses struggle to get better results online and how to address these problems using effective digital management strategies and solutions.
We recommend downloading a copy of The Small Business Digital Manager and familiarizing yourself with the challenges and issues most businesses face online and how to solve these.
For more information, go here.
Why Do Businesses Need A Content Manager?
To understand why businesses need digital management and where the content manager role fits within the structure of a digital business, we recommend completing this lesson: Digital Business Structure
After completing the above lesson you will hopefully understand why many businesses struggle to manage their content effectively and why they need effective content management.
To understand why businesses need a content manager, let's take a look at what happens when businesses decide to build their online presence using a website.
Essentially, all websites are comprised of two main areas:
Technical areas
Content areas
Both of these areas need management.
For example:
Technical management – This includes managing the website, web servers, domains, and email, maintaining websites and related software components up-to-date, secure, and optimized, managing users, logins, and databases, customizing code, web design, troubleshooting, etc.
Content management – This includes managing all content-related areas of a web presence. In other words, managing the content on web pages (e.g. products and services, FAQs, documentation…even comments left on the site by visitors!) and processes like content planning, content production (including writing the content or outsourcing it, sourcing or producing media, etc.), content promotion (e.g. ads, banners, email newsletters,  social media), and more.
Note: Managing the technical areas of a website is outside the scope of this course. This course focuses only on managing web content and content-related processes.
For the purposes of this course, we will also divide Content management into the following areas:
Content Processes Management – This is the management of all the processes involved in creating and publishing content.
Web Content Management –  This is the management of the actual content produced by the above processes. For example, this would be a website's company pages, blog articles, social media posts, advertising banners, email newsletters, media (e.g. video content, video slides), downloadable files (e.g. PDF reports or guides), etc.
Let's take a brief look at the above.
Content-Related Processes
Businesses need to implement various content-related processes to ensure that their website and other digital assets provide users with accurate, relevant, targeted, and updated content.
In this course, we have grouped all the content-related processes of a business into the following areas: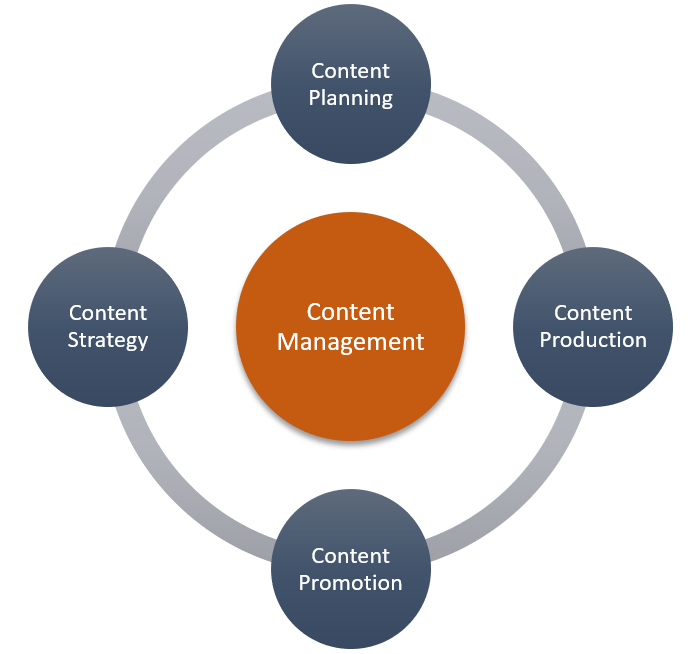 Web Content
The content that businesses need to manage can include any or all of the following elements or areas:
Website Content

Company pages (e.g. Home Page, About Us, Contact Us)
Product/Service information/eCommerce pages
Sales landing and download pages
FAQs
Legal pages
Articles & blog posts, including article titles, URL post-slugs, categories, tags, article publishing status, scheduling, etc.
Testimonials
User Documentation
Content:

Formatting
Typography
Branding
Grammar
Spelling
Accuracy
Relevance

Content in Media (e.g. artwork, images, videos, audios, downloadable PDFs)
Anchor text in hyperlinks and buttons
User comments (e.g. managing comment spam, user replies, etc.)
Content SEO (e.g. post/page/category titles, meta descriptions, meta keywords, content tags, image alt tags, image captions, filenames, etc.)
Website banners (text and graphics, dimensions, formats, etc.)
Content in navigation menus, menu descriptions, tooltips
Content redirections

Social Media Content

Social media posts
Media Content (e.g. creation and appropriate use and representation of text and graphics, compliance with company guidelines, etc.)
User comments

Newsletters/Emails – lead capture forms, newsletter subject titles and newsletter body content, subscriber emails/updates, unsubscribe messages, links in email content, etc.
Online Advertising – Banners, pay-per-click/interstitial banners, text, or media ads, CTA (Call-to-action) text in buttons and links, etc.
Additionally, businesses create for:
Internal Use – Staff Documentation, User Guides, Policies, etc.
Users (Visitors, Prospects) – Private and publicly accessible information, training content for clients, members, customers, suppliers, etc.
Compliance – Content copyright and licensing, legal pages, disclaimers, terms and conditions, web accessibility, etc.
Effective content management is making sure that all the content-related processes of a business work together efficiently and that all the content these processes create is delivering the business its intended results.
Without effective management, a digital presence becomes chaotic and unwieldy and its web content quickly becomes outdated, irrelevant, or obsolete.
So…
All web presences need content, all content needs effective management, and effective content management needs an effective content manager.
What Does A Content Manager Do?
Put simply, a content manager is the person responsible for managing all the content-related processes in a business as well as managing all of the content itself to deliver the business positive results.
Responsibilities Of A Content Manager
Essentially, anything involving content and any piece of content that communicates anything about the business and its brand is the content manager's responsibility.
As we discuss in more detail in the Content Management Setups lesson, the role of the content manager can vary significantly depending on the industry or company you work for, and the size of the business or the organization.
Based on the main content processes identified and discussed earlier, some of the common responsibilities of a content manager can include the following:
Content Strategy
Content Planning
Content Production
Content Promotion
This involves assisting marketing in one or more of the following areas:
The creation and distribution of timely and relevant content to different target audience groups, such as prospects, customers, members, partners, and staff over the company's website, social media profiles, newsletters, emails, etc.
Driving engagement and traffic through various projects and campaigns.
Ensuring consistency of brand identity through all content channels, including the company's website, social media profiles, newsletters, etc.
Content Management
Managing content:

On the company's website and blog.
On the company's social media accounts.
In offers and promotions.
In internal and external documentation (e.g. staff training, user manuals and guides, FAQs, etc.)

Auditing existing content on the company's website for brand voice and consistency, relevance, and optimization (e.g. internal linking)
Monitoring content performance using online tools and systems.
Compiling reports on content data, performance, and results.
As you can see, managing content effectively for a digital business presence is no small feat. Content management is complex and challenging, and the role of a content manager can encompass many areas of the business.
Content managers often are required to wear many different hats and assume many varied and extensive responsibilities.
Being an effective content manager also requires developing the right mindset, having the right skills, understanding how to perform the role in different business setups, and using the right systems and tools.
Let's go briefly over each of these areas.
Developing The Right Mindset To Manage Content Effectively
All businesses have multiple levels of decision-making and each of these levels requires having a specific mindset.
A content manager operates across all decision-making levels of a business and so it's important that you understand and develop the mindset required to perform the role effectively on each of these levels.
We cover this in detail in our lesson on developing the right mindset to manage content effectively.
Content Management Skills
Having the right mindset is important, but so is having the right skills to manage content effectively in a business.
We cover these skills in more detail in our lesson on developing the right skills to manage content effectively.
Content Management Setups
Content managers have to be able to perform their role effectively in all situations and under all circumstances.
As a content manager, you may find yourself working with businesses of all sizes, different organizational structures, limited budgets, and often very limited resources.
While larger or established companies may employ and assign content managers to multiple teams, a startup or small business might require its content manager to wear many hats and perform a range of duties and responsibilities, such as marketing, taking ownership of an editorial calendar, developing a content strategy, content plan, and content topics, compiling reports, managing its blog, social media accounts, marketing offers, email campaigns, or writing blog posts, product pages, long-form editorial pieces, etc.
We cover this in detail in our lesson on how to manage content effectively in any and all kinds of digital business setups.
Content Management Tools And Systems
In addition to having the right mindset, the right skills, and an understanding of the different kinds of business setups and situations you may be asked to work in, it's important to know which tools to use and how to implement effective content management systems to perform successfully and competently in the role.
You need knowledge of digital marketing software, tools, and methods that aid in the planning, production, and promotion of content.
We cover this in detail in our lesson on using the right tools and systems to manage content effectively.
How Do I Become A Content Manager?
While becoming a content manager provides an exciting opportunity for anyone looking to start a new career in the digital economy or wanting to manage the content of a small blog or a large company website more effectively, it is a demanding role that requires continuous learning and upskilling.
Like many digital roles, content management may be something that you have stumbled upon or fallen into as part of your existing job or you may have discovered that this is the job for you and that you want to make sure that you're prepared and have what it takes to be successful.
The following tips will help you on your path to becoming a successful and professional content manager:
1. Complete Our Free Content Management Course
This is a 100% practical course on content management, written by someone with over a decade of experience creating, publishing, and managing digital content for different kinds of businesses and businesses of all sizes (learn more here).
While completing our free course will not give you a University degree or a certificate in content management, it will teach you inside secrets accumulated over years of hands-on experience to help you manage content for any business more effectively and at a minimal cost, and shave years off your learning curve.
We recommend that this course be your starting point. Over the course of your career as a content manager, you will need to learn new skills and new tools, and our lessons and resources sections will point you to these.
2. Improve Your Content Marketing & SEO Skills
Whether you are just starting out or have an extensive background and years of experience in business, it's important to have good content marketing and SEO skills.
SEO skills will help you write or produce content that is relevant to your target audience's needs and content marketing skills will help your business create and deliver this content more effectively.
We provide links throughout this course to many excellent content marketing and SEO resources like courses, websites, articles, tools, etc.
3. Create And Manage Your Own Personal Website Or Blog
Having your own website or blog is a great way to learn, develop, gain experience, and practice your content management skills.
You can learn everything from content strategy and content planning to content production, content promotion, and content management simply by having your own site and creating and publishing your own content.
Whether you create a website or blog for a business idea or simply to publish your own musings, it will teach you valuable skills about structuring a digital presence, uploading and managing content, and how to use a content management system effectively.
Additionally, suppose you're just starting out. In that case, running your own blog provides future employers with something tangible that you can demonstrate when applying for content management roles. Also, having the experience of running your own blog can help to provide more insightful answers during interviews.
4. Apply For Entry-Level Roles
If you haven't got the experience to apply for a content manager's role yet, then apply for an entry-level role that will improve your skills and help you get there.
A content manager needs to understand each and every one of the team roles it will oversee. Just like many fast-food restaurant chain managers began by working on the grill flipping burgers, you can start with an entry-level role and move up into content management as you gain more experience and confidence handling bigger projects and take on more responsibility.
Look for content-related roles like copywriting, writing for blogs or social media, or any position that involves learning and applying SEO or content marketing skills.
5. Assume Content Management Responsibilities Within Your Role
As we explain in our Digital Business Structure lesson, in a modern business, digital processes permeate throughout the entire organization and content plays a major part in almost all digital processes.
So, whether you begin your journey to becoming a content manager by accepting an entry-level role or are currently working in a completely different and unrelated role, you can always start moving toward a content management role by assuming a content manager's duties and responsibilities.
For instance, let's say that you are working on the factory floor packing and shipping goods from a warehouse. This has nothing to do with content management, right? So how could you start moving toward a content manager role from here?
Well, you could volunteer to contribute articles to the company blog writing about areas of your department or role that potential customers and existing customers would find interesting or useful to know. This could include not only writing content for the blog but also taking photos or shooting videos with your smartphone.
Once you become a regular contributor to the blog, you could find yourself being given author and/or editor privileges, such as being able to upload media to the blog, editing or fixing your own content, etc. This could then lead to being part of a team responsible for creating content topics, managing a content schedule or editorial calendar, rewriting some of the content you've written for the company's social media or newsletter, etc.
As you can see, there is no shortage of opportunities to become a content manager. All it takes is the desire, some basic practical skills to start with, and the willingness to continue expanding your knowledge of content management as you move toward the role.
6. Apply For The Role Of Content Manager
Once you have enough experience under your belt, it's time to move into content management — either by becoming the manager of a content team or taking on more strategic roles within a marketing team.
Remember to use all the experience you've gathered thus far to show how well you can communicate with an audience and how well you've worked with content in the past.
Lead with the results of your actions and quantify these. Content reach, organic traffic, and other engagement metrics are just a few data points you can use to show how effective you can be as a content manager.
Start Sharpening Your Content Management Skills Today
If you're looking to become a content manager, it's critical to sharpen and deepen your knowledge of areas like content planning, content production, content marketing and SEO.
Refining your skill set ensures that you stay up-to-date as the industry changes. This is a must for content managers. If you don't know how the industry is changing, you won't be able to effectively connect to your audience — and connecting to your audience is what will make you an excellent content manager.
Summary
The role of a content manager is complex and challenging. It encompasses many areas of a digital business presence and requires assuming many different responsibilities.
It also requires having the right mindset, the right skills, an understanding of different business setups and situations, using the right tools, and implementing effective content management systems.
All of this also means that there is a tremendous opportunity for people that can perform the role successfully and competently, as more and more businesses become aware of the importance of managing their content effectively.
Useful Resources
In addition to completing the lessons in this module, we recommend the following resources:
Visit our tools and resources section for additional courses, guides, and recommended tools and resources for content managers.
***
This concludes our overview on the role of the content manager.
Action Steps
Please make sure to complete all lessons in this training module before proceeding to the next training module (Content Strategy).
Next Lesson
Go here for the next lesson in the Digital Business training module: Digital Business Structure
Digital Business – Module Lessons
Below are all the lessons included in this training module. Click on a link to go directly to the lesson:
Click here to return to the Course Outline.
***
Image: Pixabay